The Tapestry offers a myriad of exclusive facilities including a large swimming pool, kid pool, aqua pool, outdoor fitness, spa lounge, BBQ area, clubhouse, dining pavilion, functional room. The perfect home for moments.
The Tapestry Site Plans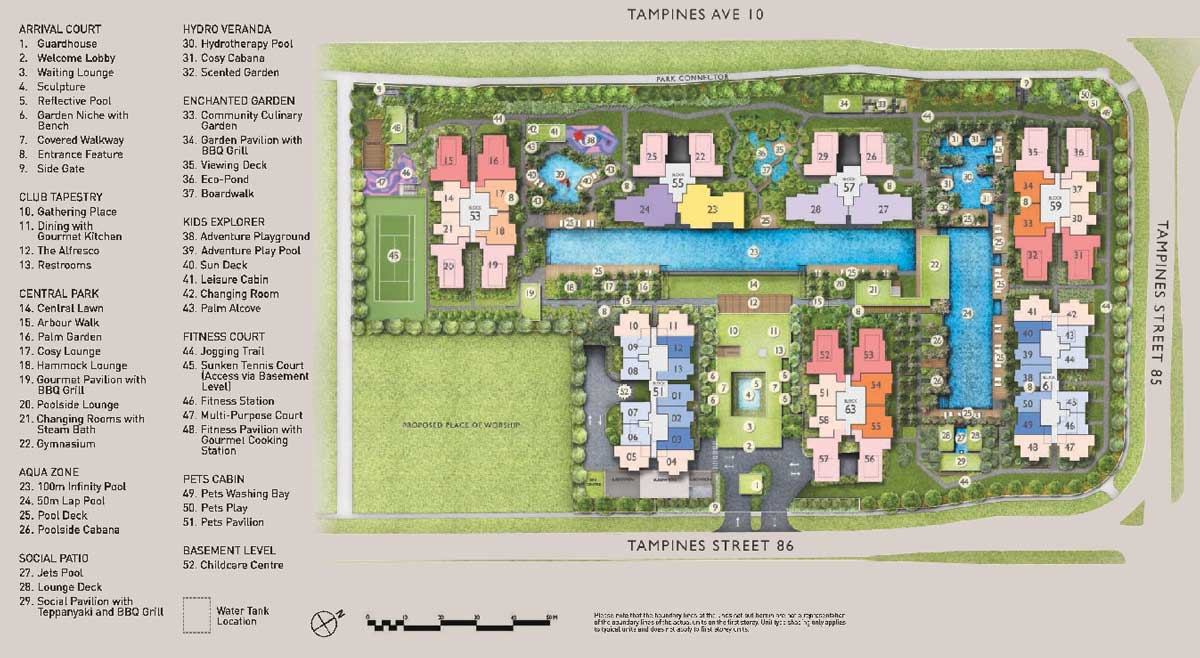 ---
The Tapestry Facilities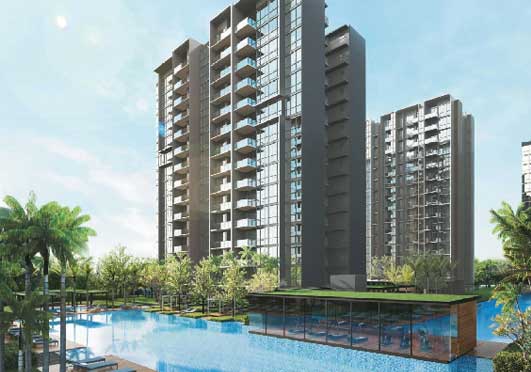 THE NEW PRIDE OF TAMPINES
Like an intricate masterpiece of undeniable beauty, The Tapestry is an astounding world which draws inspiration from the richness of life. Its distinctive architecture uses a modern and unique curtain wall feature that is mostly seen in high-end luxury homes. Located along Tampines St. 86, The Tapestry is close to the established Tampines Regional Centre and Pasir Ris estate.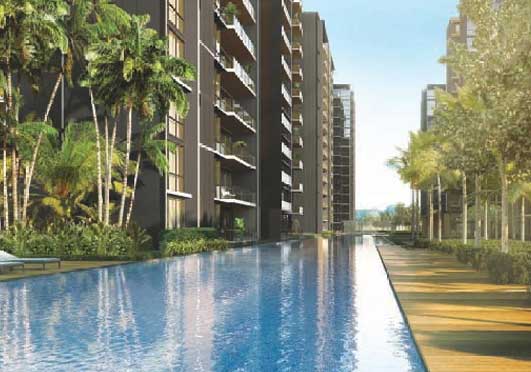 A PERFECT BALANCE OF INDULGENCE AND WELLNESS
Arrive home in style everyday. Upon entering The Tapestry, be greeted by a grand Arrival Court. Take a dip in the impressive 100-metre Infinity Pool and the 50-metre Lap Pool. Enjoy family gatherings and parties at Club Tapestry that comes with extended alfresco seatings by the lawn and gourmet kitchen facilities. The Tapestry is designed for the enjoyment of you and your family.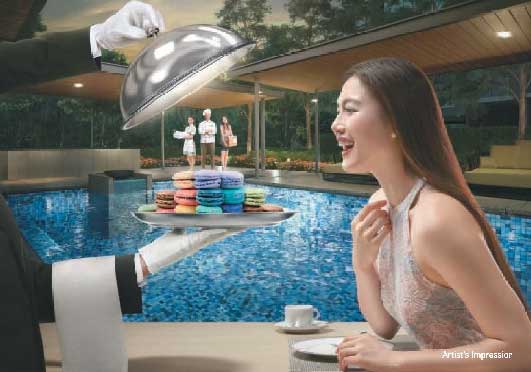 THE CONVENIENCE OF RESIDENTIAL SERVICES AND A CHILDCARE CENTRE
Enjoy thoughtful residential services, exclusively for all residents at The Tapestry. From private chef services, housekeeping services, down to transport arrangements and more, our Residential Services host will assist in fulfilling requests to cater to your lifestyle needs. The Tapestry also offers you a world of comfort and ease with a childcare centre at your doorstep.
---
10 Exciting Zones With Over 50 Facilities
ARRIVAL COURT - Be greeted by an extraordinary Arrival Court that exudes a sense of luxury fronted by a signature sculpture.
CLUB TAPESTRY Organise parties and gatherings at the function rooms with a gourmet. kitchen.
CENTRAL PARK - Take a leisurely stroll amidst the impressive Central Lawn as you take in views of the swimming pool.
AQUA ZONE - Immerse yourself in pools of tranquillity. Swim in a refreshing 100-metre Infinity Pool and 50-metre Lap Pool.
HYDRO VERANDA - Enjoy a soothing Hydrotherapy Pool designed to soothe every part of your body from your head down to your toes.
SOCIAL PATIO - Entertain guests at the Lounge Deck and Social Pavilion with its very own Teppanyaki and BBQ Grill.
ENCHANTED GARDEN - Al the community culinary garden, grow and cultivate herbs and vegetables.
FITNESS COURT - Find a Sunken Tennis Court, Jogging Trail and Fitness Station that cater to your body's every need.
KIDS EXPLORER - Let your kids' imagination run free at the Adventure Playground and Adventure Play Pool.
PETS CABIN - Comes complete with a Pets Play and Pavilion, specially created for your pets' enjoyment.
---
Setting New Standards Of Living
Each apartment is adorned with sleek designer fittings including a Haiku ceiling fan and finishes known for their quality and style. Find an accessories cabinet in the spacious master bedroom and a pelmet to conceal blinds or curtain fixtures. Exclusive private lift for 4-bedroom, 4-bedroom dual key and 5-bedroom dual key + study units.
Make useof a fully-equipped kitchenwith Teka cooker hood, hob, oven, refrigerator and washer cum dryer. Additonal Teka combi steam oven is also provided in 4-bedroom, 4-bedroom dual key and 5-bedroom dual. key + study units. Kitchen and bathroom wares and fittings come from reputable brands like Grohe and Duravit. This is the home you've always wanted and more.
All units are fitted with smart home technology including smart voice assistant so that you can control your home remotely for peace of mind.
---
A Smart Homt That Takes Care Of Your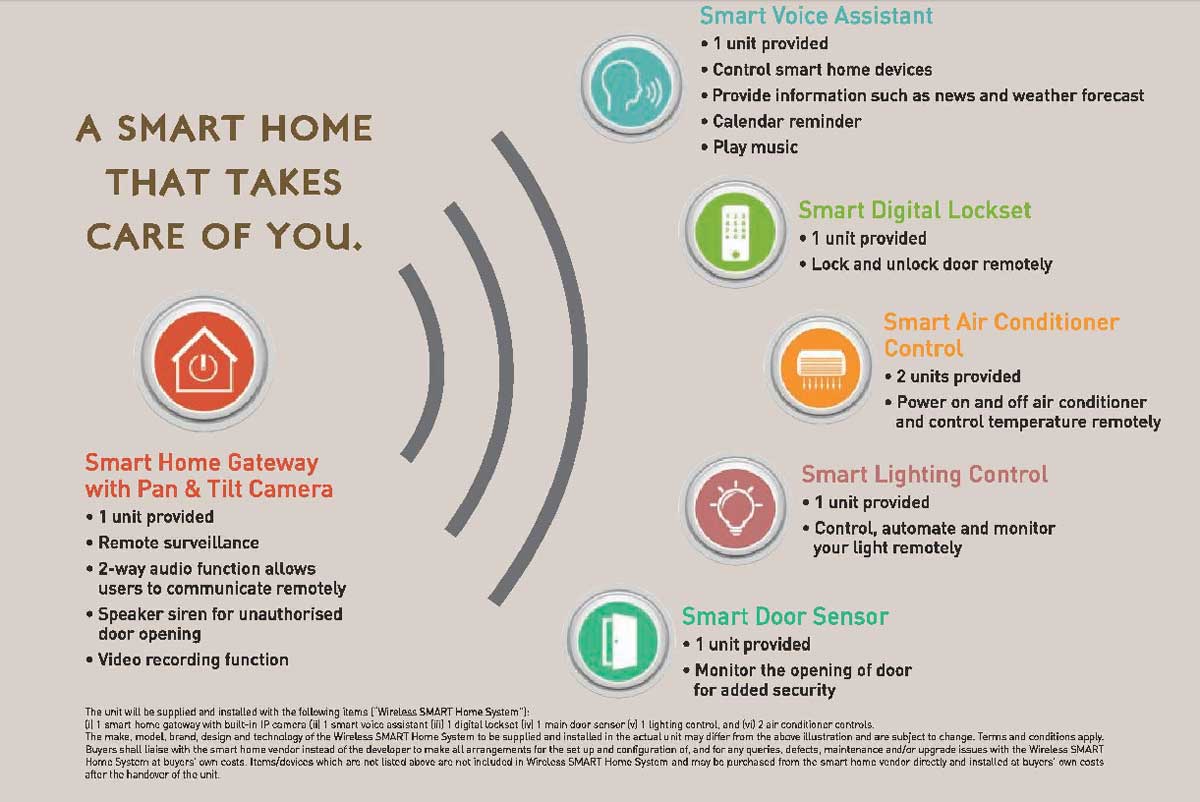 ---
Schemactic Chart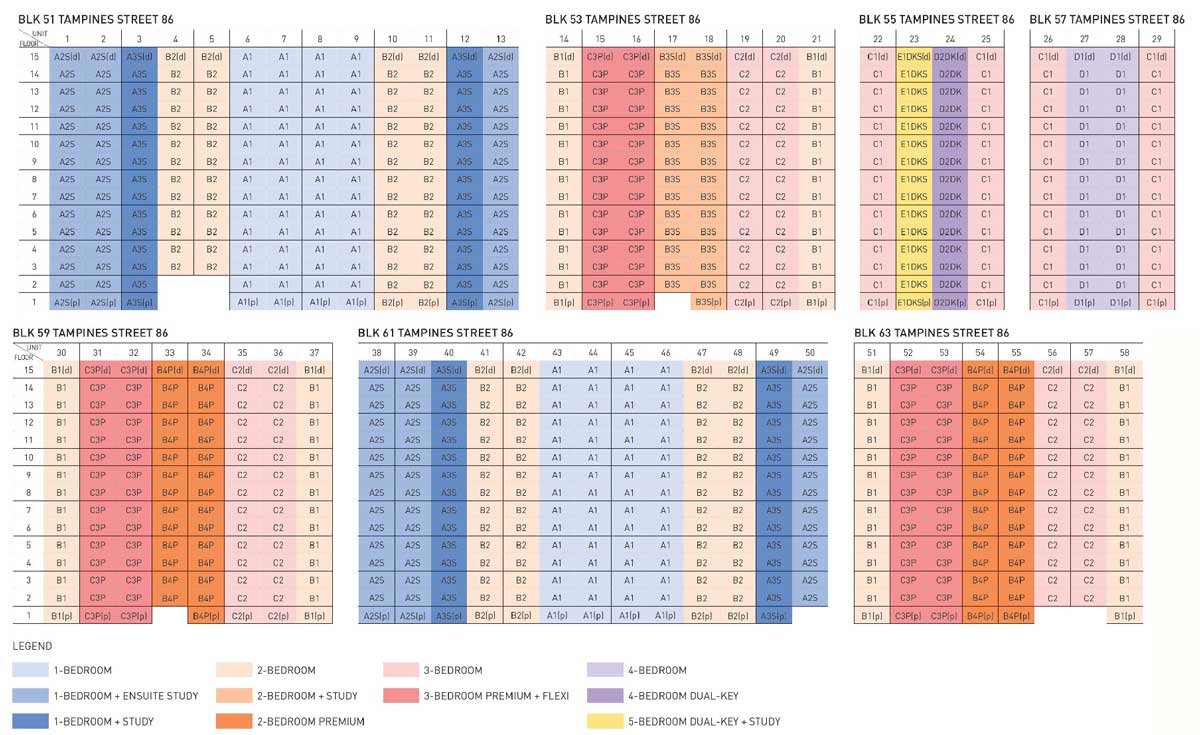 ---