Nyon @ Amber Road has full facilities designed with luxury and exquisite in mind comprise Swimming Pool, Kids' Pool, Jacuzzi, Pool Lounge Deck, Clubhouse, BBQ Pavilions, Playground, Garden Pavilions: Communal Courtyard, Handicapped Toilet, Shower & Changing Room, The Lawn, Bicycle Parking, Drop-Off Area, Side Gate, Guard House, Letterbox & Parcel Collection, Gym, Outdoor Fitness Area, Sky Dining, Children's Play Area, The Sifting Room, Patio Lounge, Sea View Patio, Communal Seating Area. You can chill out or wine and dine on the 14th floor while enjoying the sea views and the city skyline lights.
After finding out diversity facilities, continue to discover Floor Plans right now to chose for you and your family a suitable home.
Nyon @ Amber Road Site Plan
Level 1 & Level 14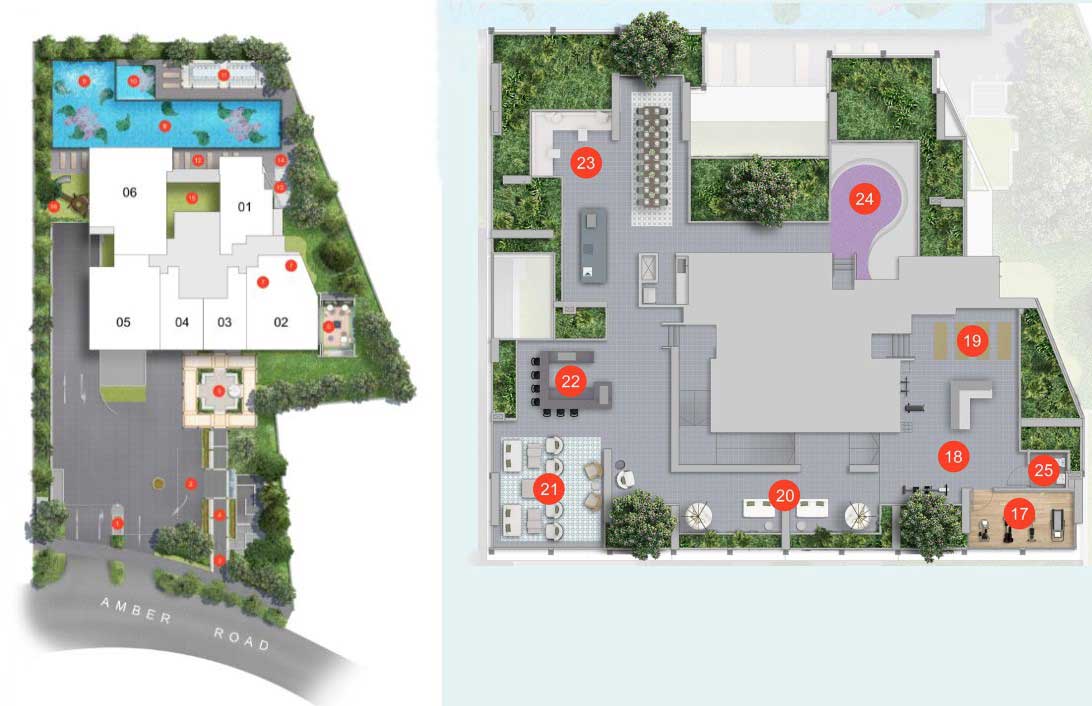 Level 1-Layout Plan
Legend:
Guardhouse
Drop-off
Side
Entrance Promenade
Courtyard
Club House
Campana Pods
Mosaic Pool
Jacuzzi
Kid's Pool
BBQ Pits
Sun Lounge Deck
Toilet & Changing Room
Shower
The Lawn
Treehouse Playground
Level 14- Sky Terrace Plan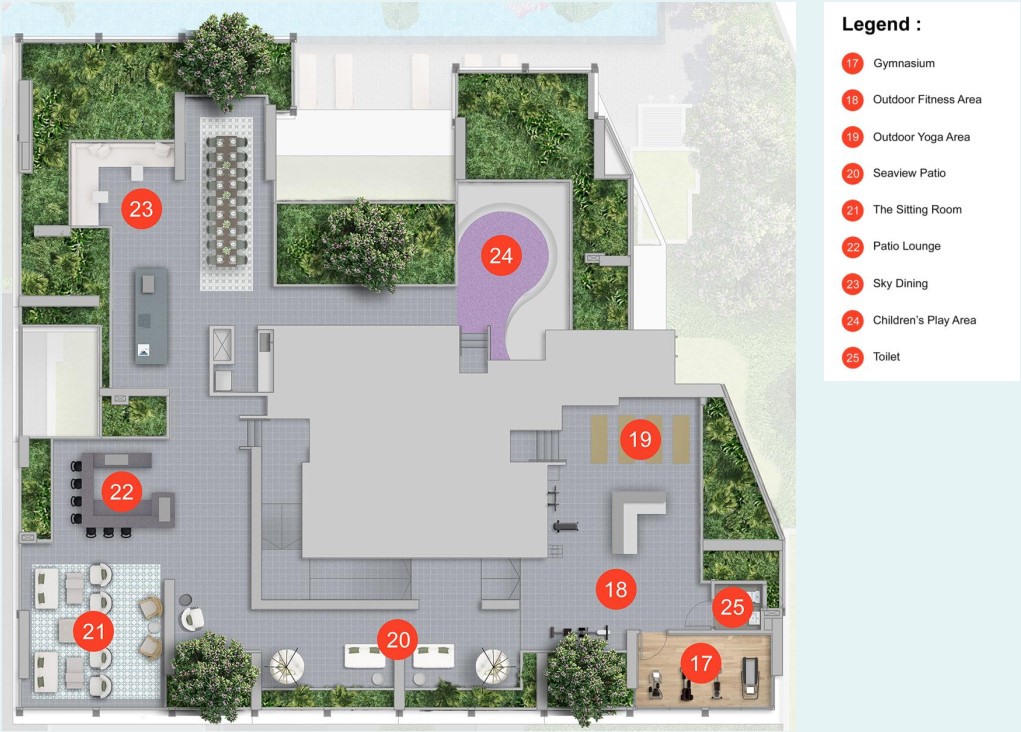 ---
Nyon @ Amber Road Facilities
THE NYON STORY
Across the seaside neighbourhood, NYON's contemporary and time-honouring silhouette rises. With a foundation deeply rooted in its heritage, NYON offers a stunning modern take, with human-centric features and upscale comforts. From the romance of its public spaces, to the thoughtful design of every apartment, the NYON mark of originality can be seen and felt.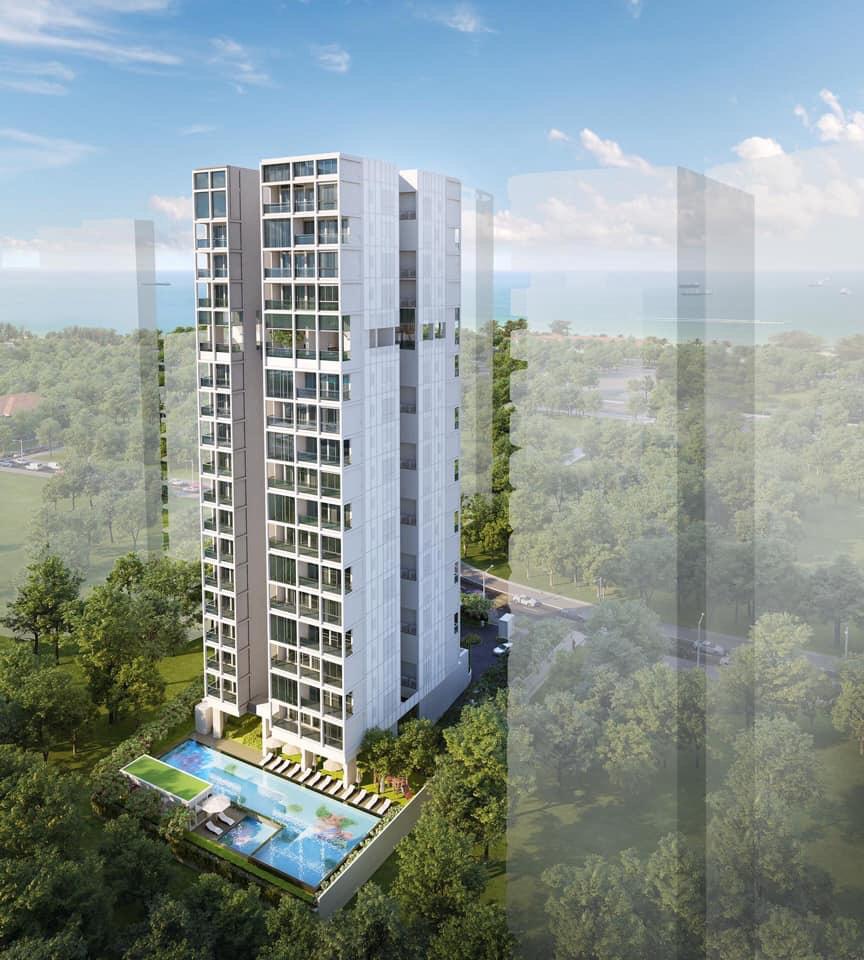 RE-CREATING A TYPICAL TYPOLOGY OF A RESIDENTIAL TOWER:
A human-scaled yet volumetric first storey resembles the identity of East Coast which brings reminiscence of old times. Spaces are layered, progressing from enclosed to open, creating a different sense of space for the users.
With its pure white square blocks, it is considered as a starting point for the residents to imprint their new lifestyle onto it, while standing out from the typical residential towers nearby.
Park + Associates Pte Ltd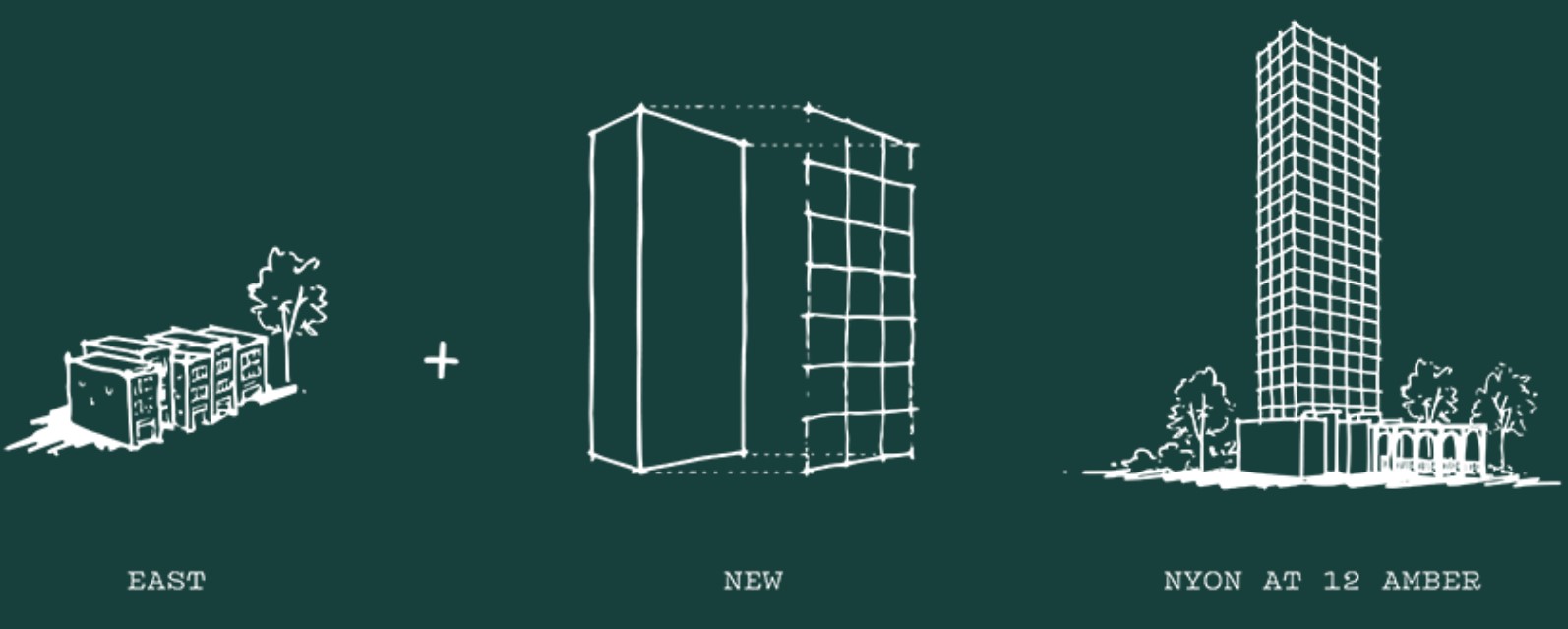 OUR INSPIRATION RETOLD
A luxurious residence inspired by a treasure of memories, objects, and craft from the Peranakan legacy.
Award-winning developer Aurum Land has crafted an exceptional residence that captures the best of East Coast living — the harmonious union of heritage and modernity set in a dynamic cosmopolitan city.
Occupying a prime position that bridges irresistible city comforts to precious cultural stories.
NYON gracefully presents an elevated lifestyle within and without walls
---
---
---
---
Ground level
Arrival Zone
Guardhouse
Drop off
Side gate
Water feature (at grand entrance)
Sheltered linkway to clubhouse
Family Zone
Swimming pool
Jacuzzi
Kids' pool
Sundeck with loungers
The Lawn
Pods x2
BBQ Pavilions x2
Club View
Courtyard Garden Pavilions x 2
Club House
Interactive Zone
Playground (Treehouse)
---
Auxiliary
Outdoor shower and deck
Handicap toilet x1
Changing room x1
Bicycle Parking (15 lots)
14th floor
Sky Dining
Patio Lounge
The Sitting Room
Seaview Patio
Gymnasium
Outdoor Yoga Area
Outdoor Gym AreaChildren's Play Area
Communal Seating Area