Step into Rivercove Residences, you've stepped into a new world where everything is possible. Enjoy your exclusive access to a host of shared condo facilities including swimming pool, BBQ pavilion, gym and fitness, spa and clubs. The perfect home for every moment, you can spend more time enjoying.
Rivercove Residences EC Site Plan
Entrance (Basement 1)
A.
Guard House
B.
Entrance Court
C.
Entrance Cascade
D1.
Resident's Side Gates
Family Zone
E.
Clubhouse
E1.
Function Room
E2.
Male & Female Changing Room
F.
Family Pool
G.
Kid's Pool
H.
Family Pavilion (with BBQ facilities)
J.
Cozy Garden
K.
Garden Deck
L.
. Garden Terrace
M.
Media Room
D2.
Resident's Side Gate (Basement 1)
Active Zone
N1, N2, N3.
Rain Garden
O.
Activity Lawn
P.
Gourmet Pavilion (with BBQ facilities)
Q.
Kid's Playground
R.
Multi-Purpose Sports Court
Relaxation Zone
S.
. Steam Room
T.
Spa Pavilion
U.
Hydrotherapy Pool
V.
Lawn
W.
Gardener's Pavilion (with BBQ facilities)
X.
Community Garden
N4.
Rain Garden
Fitness Zone
Y.
Gymnasium
Z.
Aqua Gym
AA.
50m Lap Pool
Nature Zone
BB.
Viewing Deck
CC.
Park Pavilion (with BBQ facilities) (Basement 1)
DD.
Outdoor Fitness Area (Basement 1)
EE.
The Den (Basement 1)
EE1.
Community Function Room (Basement 1)
EE2.
Kid's Party Room (Basement 1)
FF.
Bicycle Washing Bay (Basement 1)
D3.
Resident's Side Gate (Basement 1)
Rivercove Residences EC Facilities
Live life anew by the river
---
---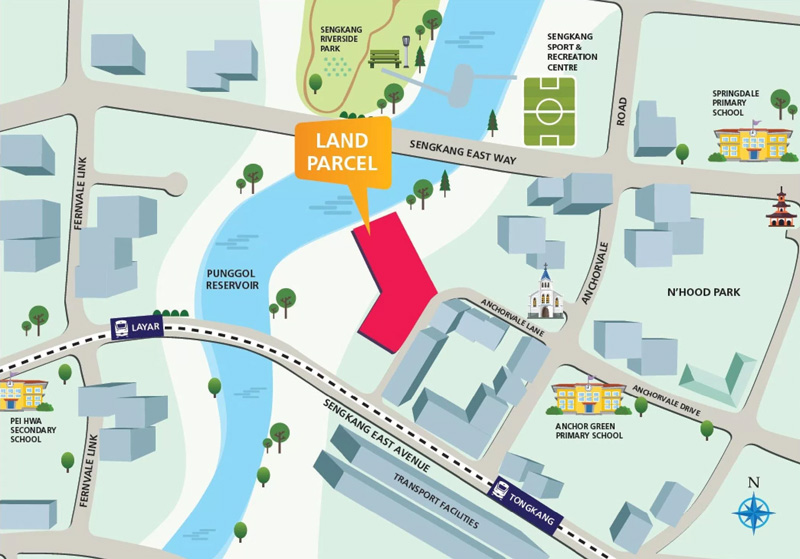 Rivercove residences celebrate your life's dynamic with a large swimming pool and refresh your tan at the pool deck, also feel the warmth of the sunshine and happy moments with your loved one at the Jacuzzi. The spa offers a perfect relax to soothe tired muscle, indoor gym bring you a casual work out to build a strong body.
Welcome your friend to your new home at Rivercove residences, party by the BBQ Pavilion and Hold anniversary or birthday party at function room. You can get more time with your children at the playground or indulges yourself in a romantic water-front view of Sengkang Riverside Park.
Rivercove residences is more than a place to live, take a look at floor plan to find out the most suite units for your family.
---
Call Developer Onsite Sale Team at (+65) 6303 0574 To Make Your Reservation For Showflat Viewing
---