A whole range of facilities is available at The Antares such as a swimming pool, indoor gym, tennis court, children playground and BBQ area awaits you. An exclusive and serene living environment awaits you at The Antares.
A truly luxurious resort lifestyle for you and your family at The Antares, explore Floor Plans right now to have a dream home.
The Antares Site Plan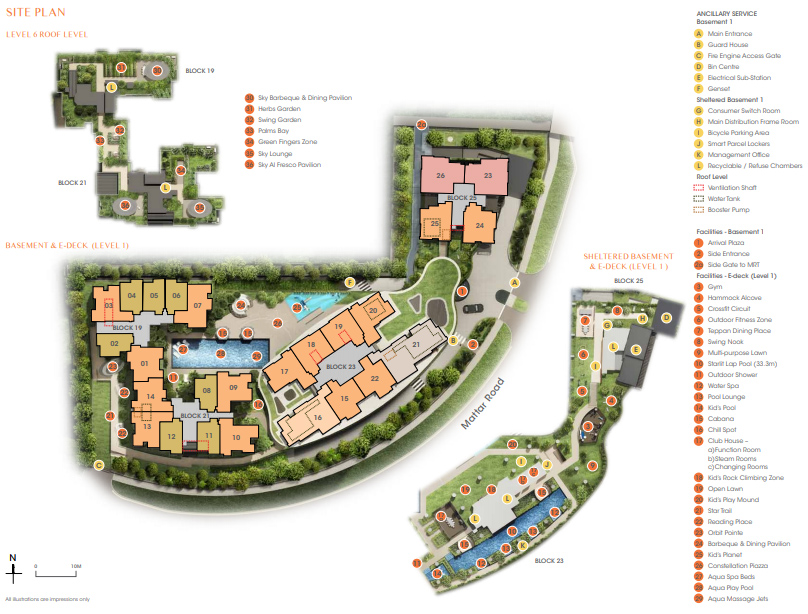 ---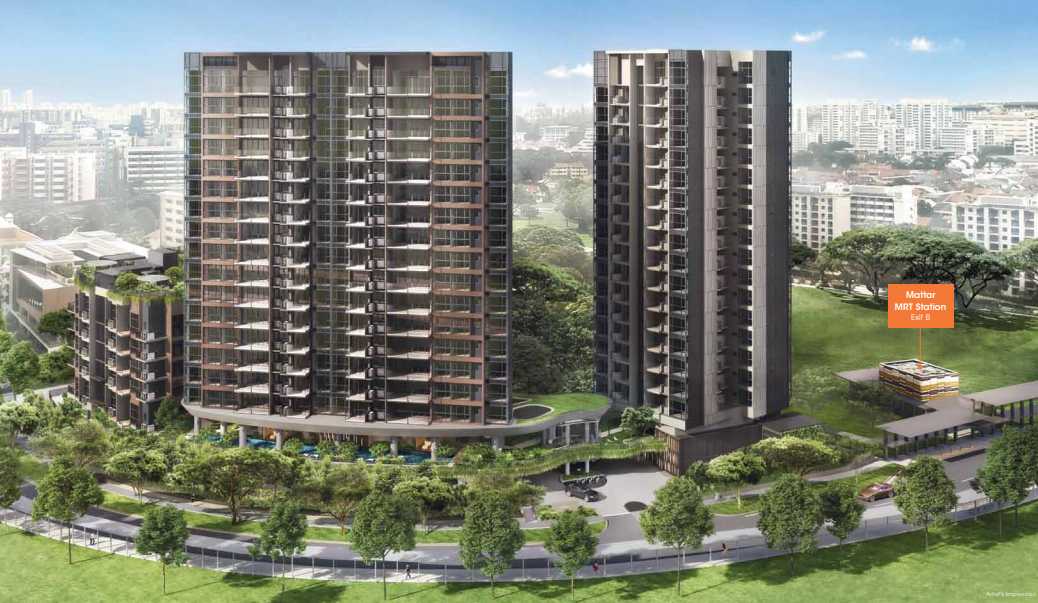 Gaze upon a rising star
Nestled in the heart of Mattar road, The Antares lights up the tranquil neighbourhood with its contemporary and timeless architectural designs. Comprising of four blocks of a total of 265 apartments ranging from 1 to 4 bedroom types, it offers respite for those looking to disconnect from the daily hustle and bustle of city life. At the same time, it is able to satisfy the needs and desires of modern urbanites with its close proximity to the city centre. Like a true alpha star, it simply shines.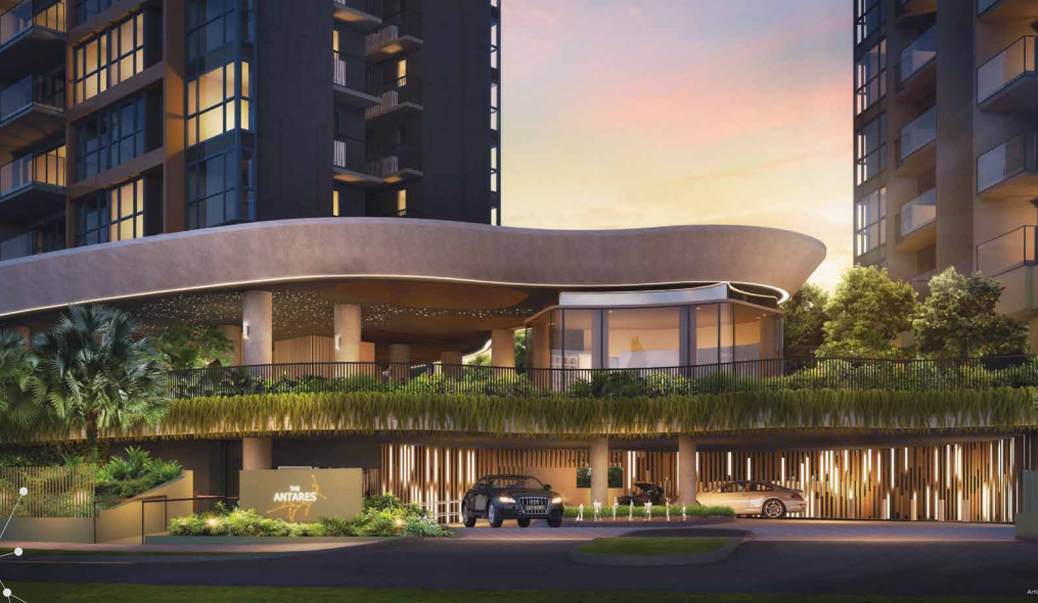 A magnificent star that stands the test of time
The awe-inspiring wonders of the universe are reinterpreted into various shades and textures, revealing an ambience of refined and understated elegance. The Arrival Plaza is accentuated with metal stripes, voids and lights to create the mesmerising visual effects of illuminations and shadows. Serving as a recurring design motif throughout the development, light and dark shades of grey interplay with each other to fabricate the breathtaking sight of a meteor shower, adorning The Antares with spectacular detailing and a modern flair.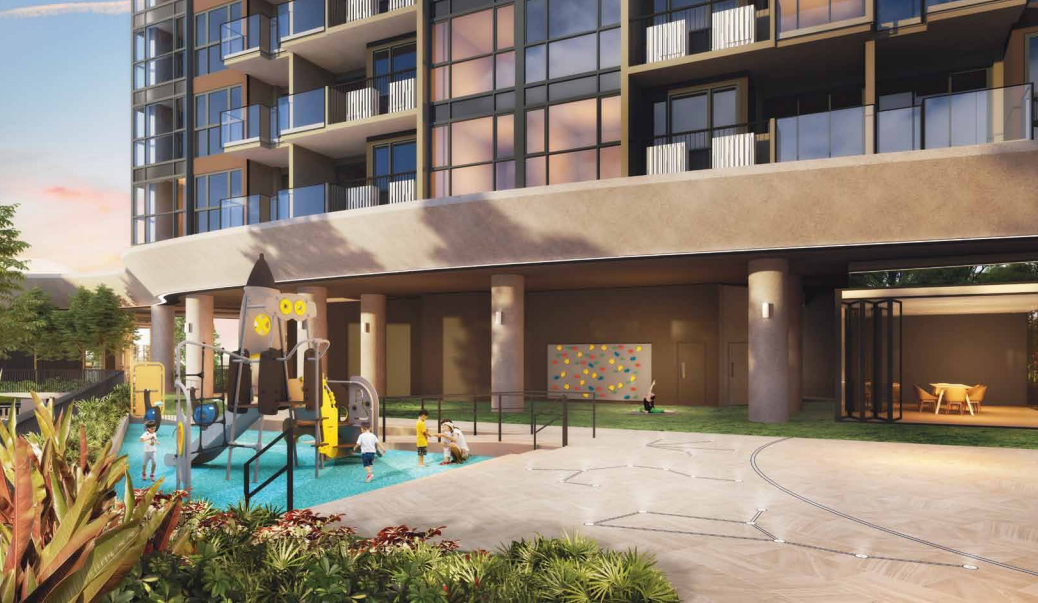 A glittering array of enjoyments
Be enticed with the wide range of entertainment and recreational facilities available for you and your family. From a 24-hour gym, swimming pools, Crossfit Circuit and Kid's Rock Climbing Zone, to a space-themed Kid's Planet, Swing Nook and dining pavilions, there is always something for everyone. Whether you are into fitness or simply prefer to chill and dine, you can be assured of one thing: There is never a dull moment at The Antares.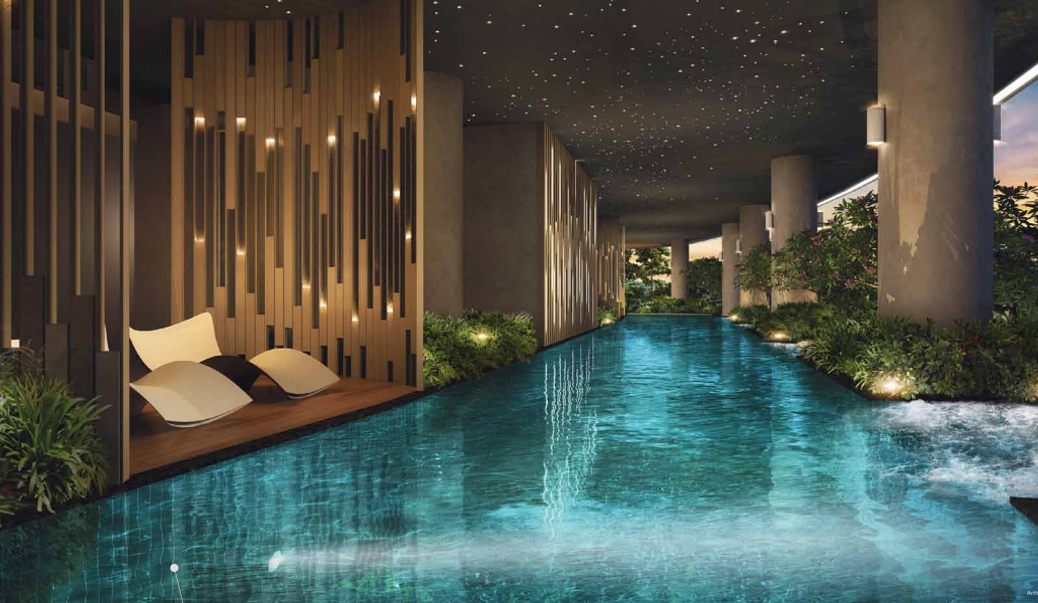 Escape to an idyllic realm
Let your mind wonder under the twinkling of stars as you soak your worries away in the luxurious 33.3m long lap pool. Hundreds of LED lights installed on the dark ceiling mirror the view of a starlit night sky, providing you with the comfortable indulgence of a sheltered pool.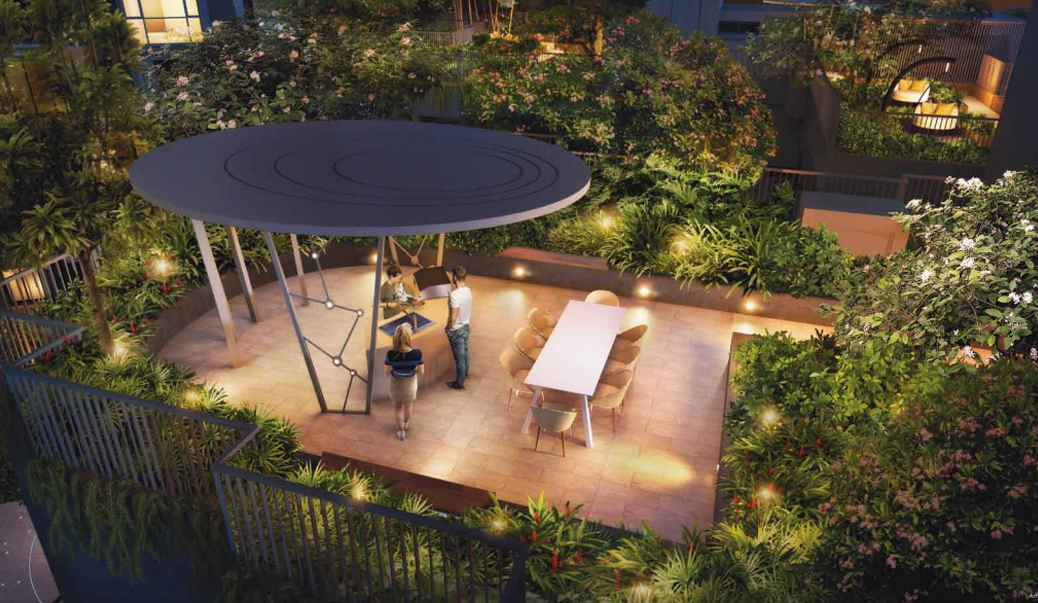 The simplicity of nature
Fall in love with nature again with The Antares's lush rooftop garden. Enjoy a unique farm to table experience straight from your very own Herbs Garden or enjoy a drink or two in the Sky Lounge or Sky Al Fresco Pavilion while stargazing in the cooling night breeze.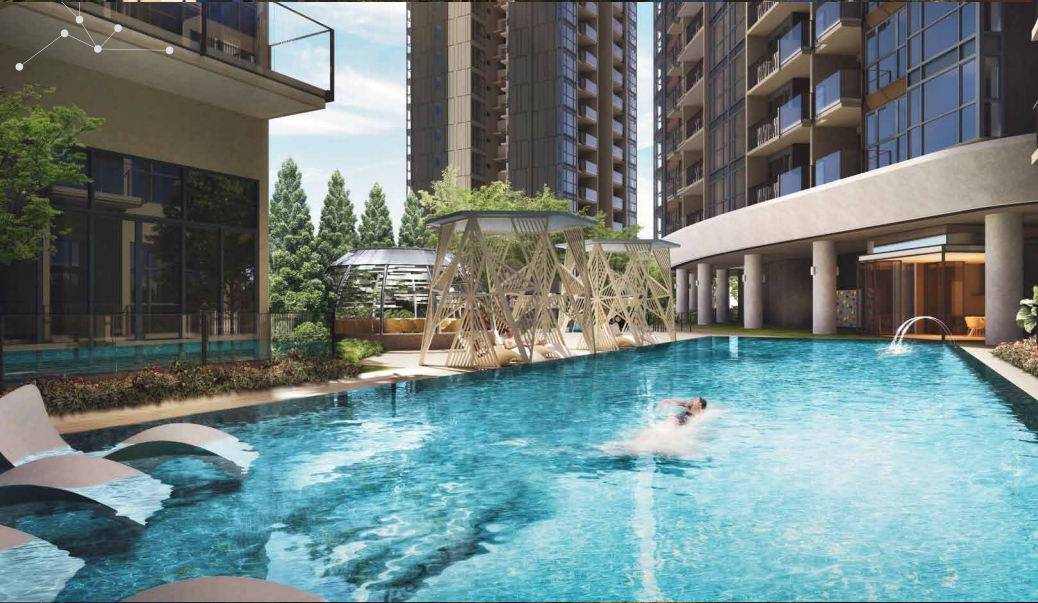 Relaxing the mind and body
Designed with your well-being in mind, The Antares pays attention to the slightest details. From the Cabana and Hammock Alcove to the Orbit Pointe, Reading Place and Constellation Piazza, ample spaces are specially created throughout the development and dedicated to your pure relaxation. Take a moment to unwind and surround yourself with the beautiful greenery and fresh air.
---
Live life on your terms
Rejuvenate your senses and luxuriate in the soothing views of the beautifully designed swimming pools and verdant landscapes from the comfort of your home
---
Empower your lifestyle with smart community
The Antares embraces intelligent technologies and practical systems to provide you with the ultimate, impeccable living experience.
Stay Connected
Share feedbacks and receive regular updates and notifications from the Management via The Antares's Forum.
Make New Friends
Register your interest on the Iplus App and attend various lessons, such as yoga and cooking classes.
Accessibility
Issue QR codes to your invited guests and let them scan their way in effortlessly
Reservation at your fingertips
Want to host a party or a gathering? Simply book the function room or barbeque and dining pavilions onthe-go with the Iplus App.
Timely Collection
Say goodbye to missed deliveries with The Antares's designated smart lockers. Inform the delivery man to leave your orders at the smart lockers and collect it after work. Easy-peasy.
---
A sanctuary called home
With 1 to 4 bedroom apartments to choose from, whether you are single, newlywed or starting a family, The Antares' s well-designed and spacious layout is the perfect canvas to design your ideal sanctuary.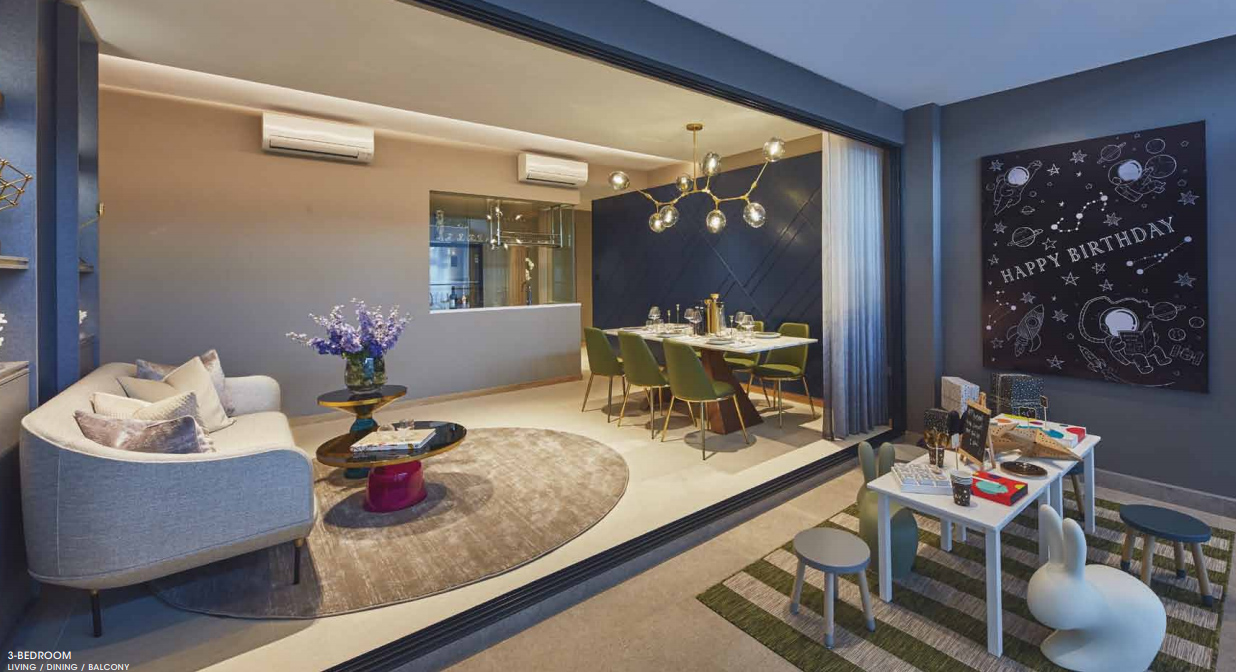 Well-heeled living starts here
Exquisite and premium finishes and fittings from trusted brands, impressive workmanship and state-of-the-art appliances await you as you embark on a sparkling new journey with The Antares.