Location Map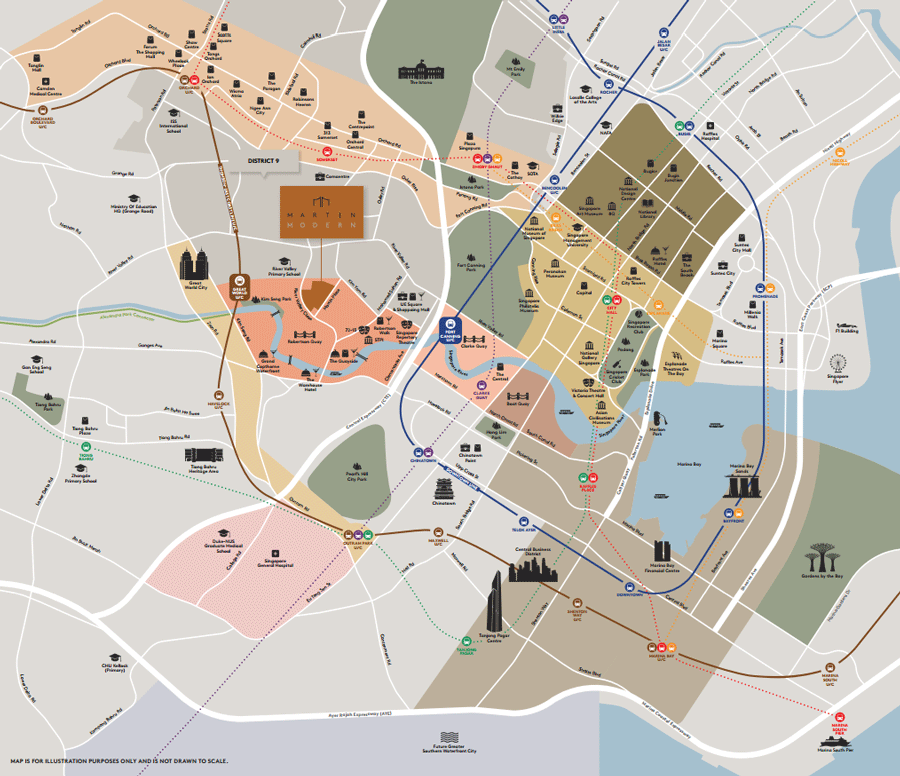 ---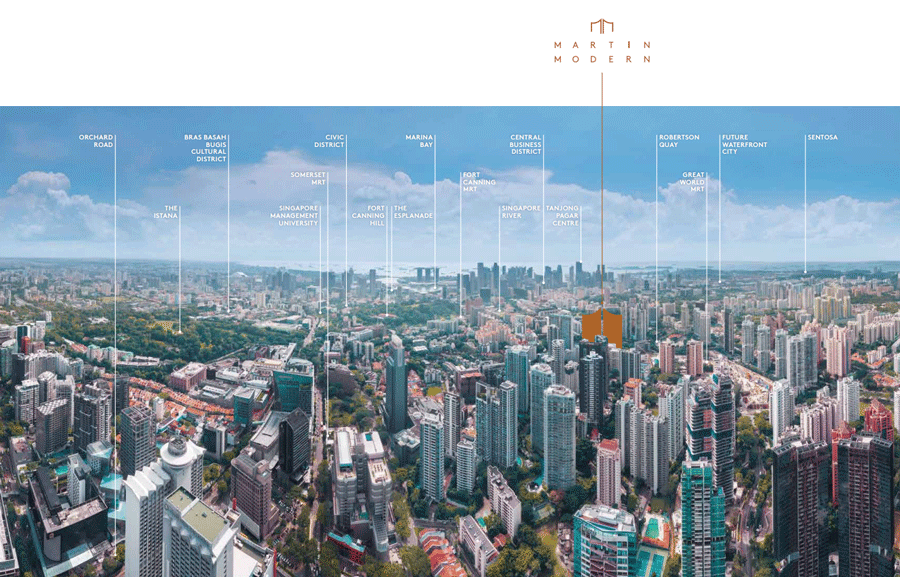 LUXE BOTANICAL GARDEN HOME IN DISTRICT 9
A rare new project in this matured prime district, Martin Modern is thoughtful modern design, featuring unrivalled accessibility, coddled in lush and spacious botanical parkland. It represents the best of cosmopolitan living with all the privileged choices at its doorstep.
COSMOPOLITAN DISTRICT 9
The insightful and well-travelled among us know the value of having choices and having quick access to them. Time is precious, that is why very few locations in Singapore are as sought after as District 9. This district is bounded by Orchard Road, River Valley, and Robertson Quay. The Orchard Road area is the established shopping and lifestyle heart of Singapore, while the Robertson Quay area is packed with dining, theatre and gallery options.
District 9 is also minutes away from the Central Business District (CBD), financial district and the glittering pleasures of Marina Bay. Situated in District 9, Martin Modern residents will be presented with a lifestyle that will please both the discerning sophisticate and the smart investor.
LIVING AND BREATHING REAL LUXURY
Real luxury is having the indulgence of natural space in land-scarce Singapore. Martin Modern has generously utilised 80% of its land area to be developed and artfully designed into a unique botanical garden and arboretum of native flora.
More than 200 species of plants and 50 species of trees will form a lovely, enchanting, natural park that will embrace the two-towered development. Residents and their loved ones will be able to spend healthy quality time together strolling, jogging and doing yoga - without crowds - within their haven in the prime district. And when Martin Modern owners look out their windows each day, they will be greeted by a naturally lush and verdant vista that few developments can afford.
---
CATCH THE REVITALISATION EARLY
Two factors make Martin Modern a not-to-be- missed opportunity: the up-coming revitalisation of the area, and the rare opportunity of a large plot in an established enclave.
NEW GROWTH, NEW POTENTIAL
Martin Modern is located within and surrounded by new areas of growth. Two new MRT lines will boost the connectivity of the area to the rest of Singapore. The Kim Seng and Outram precincts are set to be revitalised, while Robertson Quay continues to evolve into a popular and successful lifestyle enclave. Close by, the historic Civic District has been revitalised by the opening of the National Gallery, the fast evolving Marina Bay and the new financial district. In addition, more transformation can be expected from the Kim Seng precinct all the way to Outram.
RARE FIND, GREAT OPPORTUNITY
Martin Modern sits amidst many established developments in this prime area - an area that is already nearly well-filled with luxury apartment projects (for good reason). As new plots for development are scarce here, and with all the new development and revitalization on the horizon, the potential within this prime precinct is set to take flight again. Be among the first to spot the smart positioning and design of this development, and make sure you are in time to catch these limited and rare units.
BOOST TO CONNECTIVITY
It is a known fact that new accessibility invariably increases the value of properties. The upcoming Great World MRT station and the Fort Canning station will connect Martin Modern to most parts of Singapore. Together, these two lines will transform accessibility and are likely to enhance the value of properties within the already well-connected Robertson Quay precinct.
KIM SENG AND OUTRAM
The Kim Seng and Outram precincts are new developments within the River Valley belt, bringing hotels, shopping, offices and residences that will enhance the buzz and the value of the areas surrounding them.
SINGAPORE RIVER LIFESTYLE CORRIDOR
At varying, yet accessible, distances to Martin Modern, the Singapore River attractions of Boat Quay, Clarke Quay, and Robertson Quay form an important waterside entertainment and tourist corridor. Of the three quays, Robertson Quay is the largest one, with the most attractive residential character. With its cosmopolitan mix of lively cafes, restaurants, bars, galleries, and theatres, it also happens to be closest to Martin Modern.
---
EVERYTHING IMPORTANT WITHIN REACH
Every seasoned home buyer and investor knows that acquiring value is about location, location, location. Martin Modern has an unparalleled location, being close to the most important and exciting districts in Singapore, such as Orchard Road, the Civic District, the Central Business District (CBD) and Marina Bay. Such proximity brings with its convenience, time-saving, and an assurance that your property will keep its value well.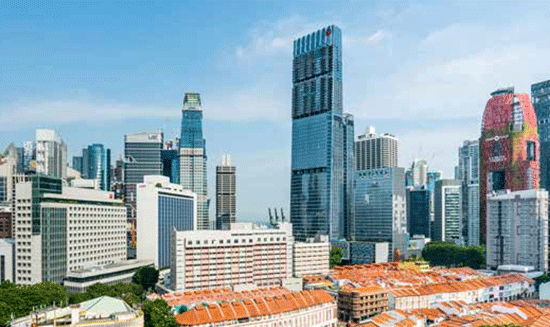 THE CBD FOR WORK AND WEALTH
Part of Singapore's Downtown Core, the CBD is Singapore's business and financial hub. It starts from Raffles Place along Shenton Way and Marina Bay, with the newest being GuocoLand's Tanjong Pagar Centre. Also Singapore's tallest building, Tanjong Pagar Centre has initiated a transformation of the district into a business and lifestyle hub in the CBD.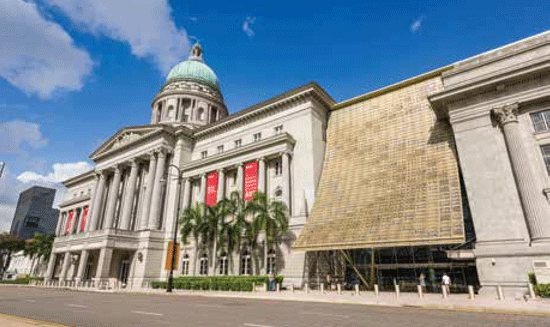 HUBS FOR HISTORY AND THE ARTS
The Civic District is home to Singapore's most important historic buildings. The Parliament House and Supreme Court are at the apex, with the old Supreme Court and the City Hall building now housing the National Gallery Singapore. Other buildings of historical significance in this area include the Asian Civilisations Museum, Victoria Theatre and Concert Hall, and The Arts House. Nearby, the Bras Basah/Bugis district is establishing itself as the centre for arts, design, and heritage.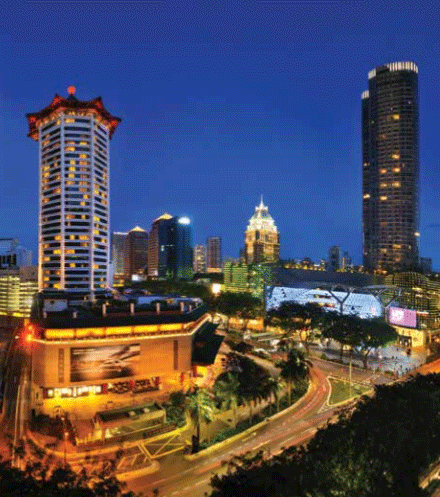 ORCHARD ROAD TO SHOP AND SUP
Known the world over as one of the great, world-class shopping streets to visit, Orchard Road is synonymous with the best shopping, dining, and leisure Singapore has to offer. It is home to the biggest fashion brand names, departmental stores, and most well-appointed and popular malls in the country.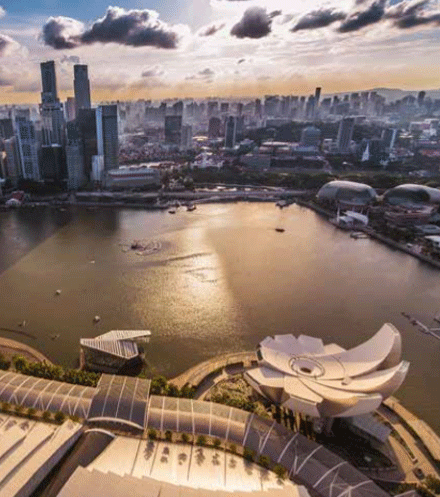 MARINA BAY FOR THE SOPHISTICATE
A few MRT stops and a boat ride away from Martin Modern, Marina Bay is the new, premium leisure extension of Singapore's financial and business district. The mixed-use area is filled with round-the-clock activities and branded boutiques. It is also the destination for international events like the Singapore F1 Grand Prix and the National Day Parade.
---
THE LUXURY OF CONNECTIVITY
Martin Modern is well-connected to its surroundings and the rest of Singapore, by MRT, roads, walking paths, cycling paths, and river taxi services. The Martin Modern resident will have the luxury of choice for the most convenient modes of transport to get to any part of Singapore.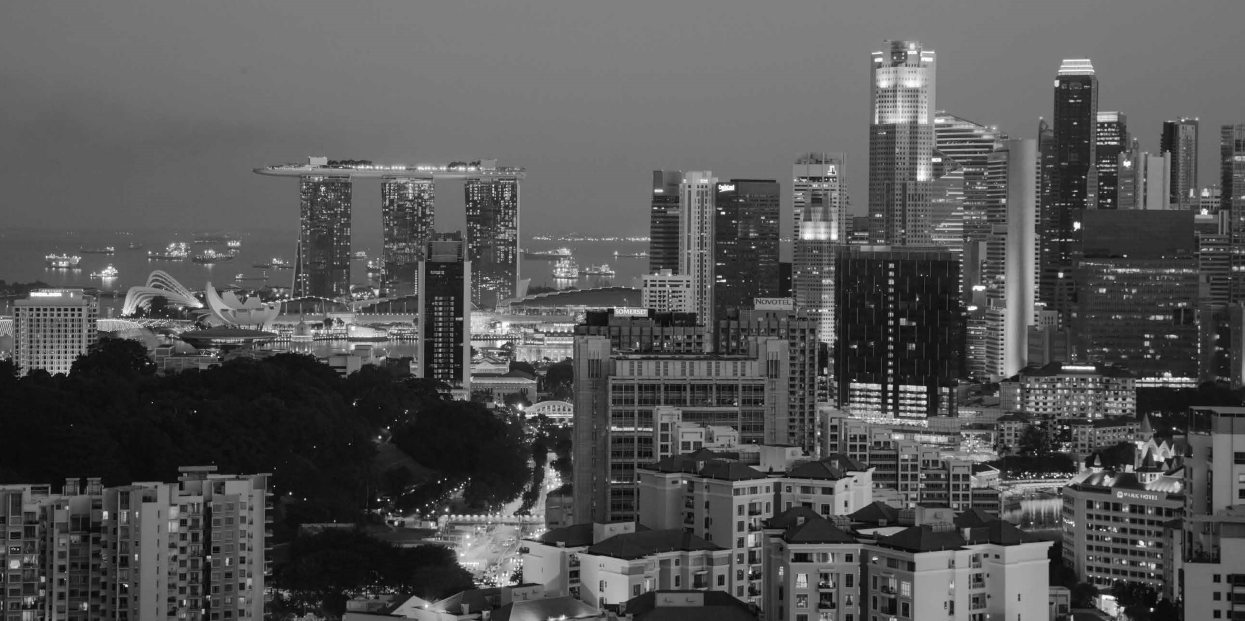 ---
THE PRIVILEGE OF CONVENIENCE AND ACCESSIBILITY
Staying this close to MRT stations is a distinct privilege for those with foresight. The upcoming Thomson-East Coast and Downtown MRT lines will make this part of District 9 even more connected to the nearby attractions and to the rest of Singapore. From the Great World MRT station, Martin Modern is just one stop away from Orchard and three stops away from the CBD. The Fort Canning station will connect Martin Modern to Marina Bay and the Singapore Botanic Gardens and the many prestigious schools in Bukit Timah. Martin Modern will add immeasurable convenience and ease to the daily lives of its residents.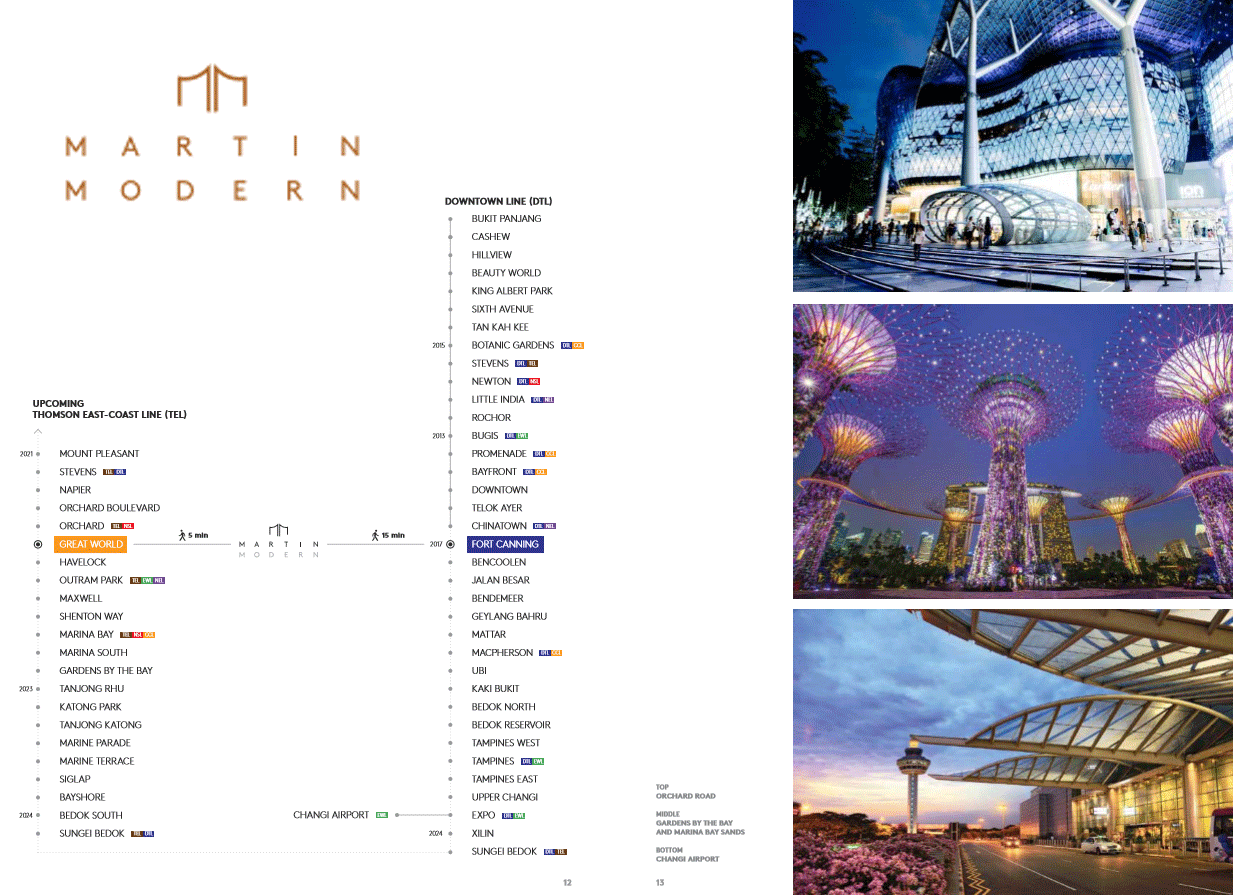 ---
MOVING ABOUT FOR PLEASURE OR FOR HEALTH
Being eminently accessible, Martin Modern allows its residents a plethora of options when it comes to moving about for leisure, pleasure or health. One can walk, jog, cycle, drive, or cruise on the river – to a whole array of experiences and pleasures.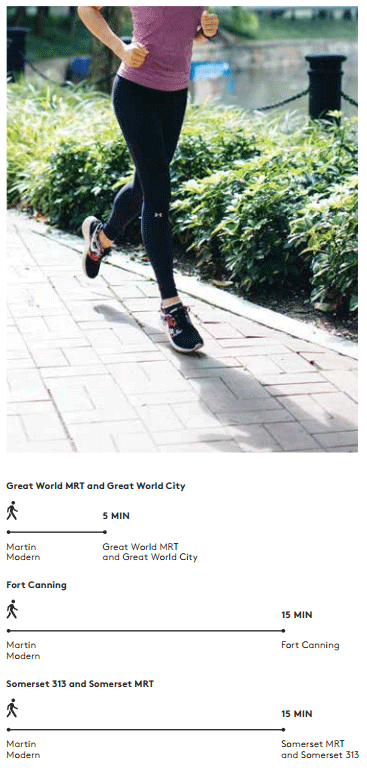 WALK AND JOG
On foot, one can easily walk to the Somerset/Killiney Road area, to the Singapore River with its great restaurants and arts facilities, and to Great World City. River Valley Primary School is within walking distance. For a scenic jog, the Singapore River Promenade beckons.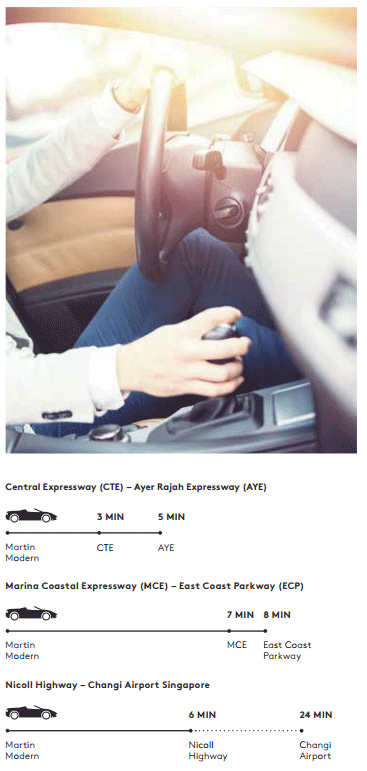 DRIVE
By car, Martin Modern is but 10 minutes away from Orchard, the CBD, Marina Bay, the Singapore Botanic Gardens, and a few reputable schools. Within minutes, one can be at the major expressways - Central Expressway, the Ayer Rajah Expressway, Marina Coastal Expressway and the East Coast Parkway – with quick access to the rest of Singapore.
---
CHILL AT THIS QUAYSIDE NEIGHBOURHOOD
Robertson Quay presents the ideal District 9 residential enclave within the city. Martin Modern residents can wine, dine, catch plays or art shows all year round in this neighbourhood. And while the Quay is just mere minutes from the CBD, it still emanates a leafy, tranquil and chilled vibe for the work weary visitor.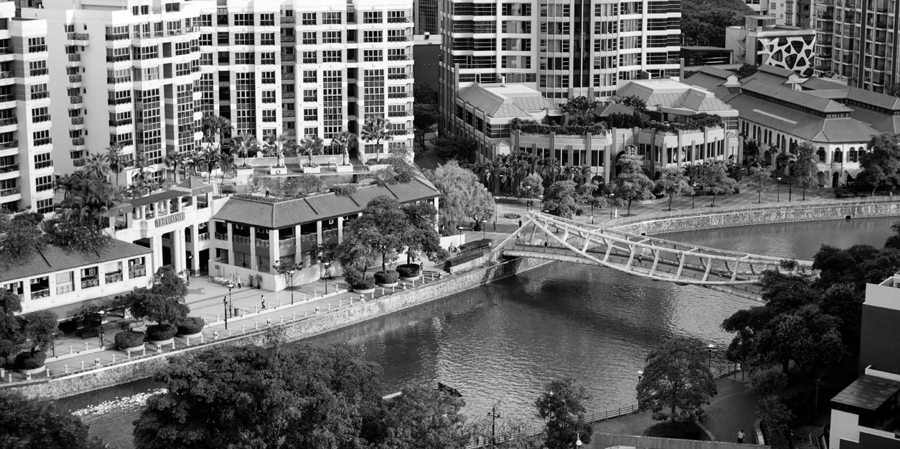 ---
HIP, HAPPENING AND LAID BACK
Being hip and happening – and yet laid back and cool – is a balance that Robertson Quay has successfully achieved. It is filled to the brim with things to do, from checking out that new wine bistro or edgy concept restaurant, to take a leisurely stroll along the riverside with a special someone, to watching the latest plays and relaxing over drinks at one of the many cafes in the vicinity. This enclave has something for every well-heeled connoisseur or culture consumer.
---
NEW NEARBY DEVELOPMENTS BRING VALUE
While it is true that land-scarce Singapore is always developing, it is the quality and the prestigious vibe of nearby developments that bring value to an acquisition. In this regard, Martin Modern stands amidst great company.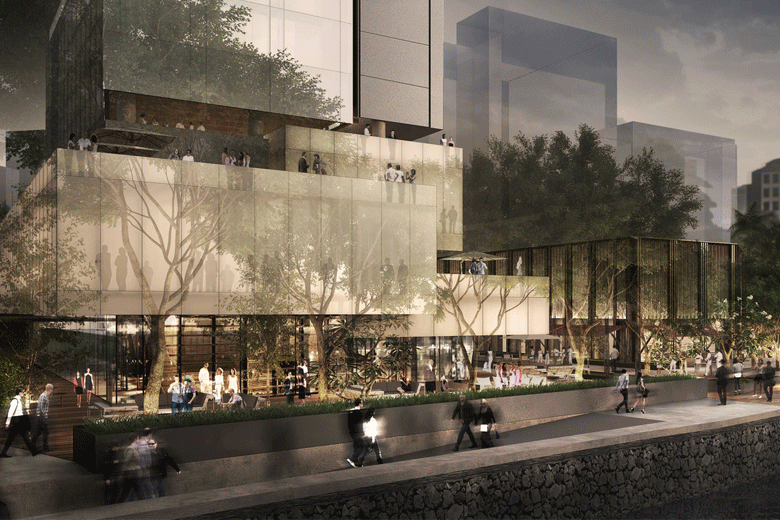 INTERCONTINENTAL ROBERTSON QUAY AND QUAYSIDE
1 Nanson Road, S238909
The project comprises the luxurious 5-star InterContinental hotel, along with 100,000 square feet of lifestyle retail fronting the Singapore River. Together, they promise to create an unparalleled experience and to become Singapore's most vibrant F&B retail and lifestyle destination.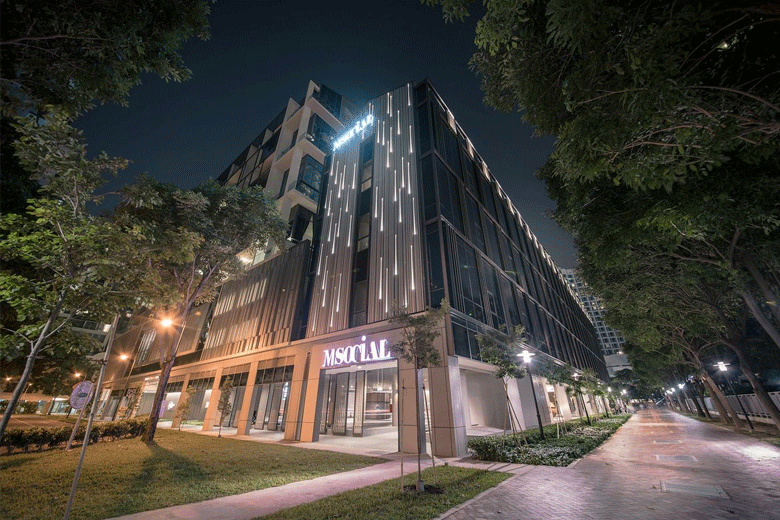 M SOCIAL
90 Robertson Quay, S238259
Designed by Philippe Starck, this ultrachic, gorgeous hotel is where the witty, whimsical, human elements of the world - including creativity, humour, and love - come together to create an experience of joy and the appreciation of design. It's trendy restaurant and bar are popular hangouts for creative types.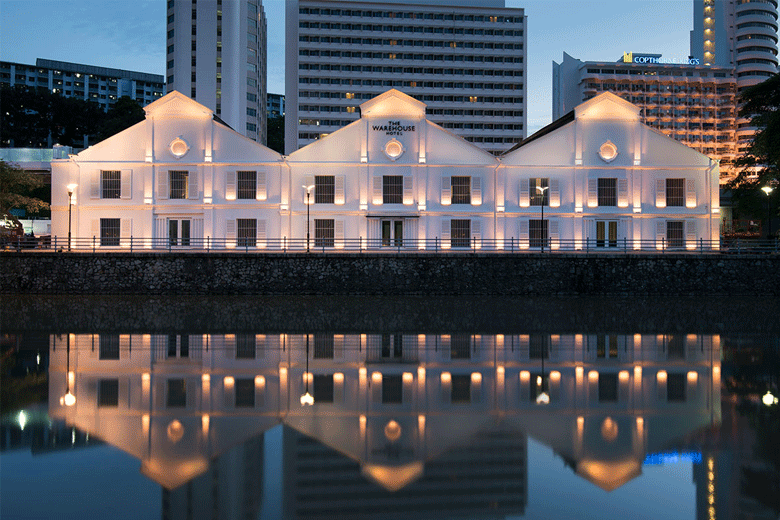 THE WAREHOUSE HOTEL
320 Havelock Road, S169628
A meticulously restored heritage building in a former go down on the bank of the Singapore River, The Warehouse Hotel delivers thoughtful hospitality with rooms that have elegant and quaint historical touches.
---
ESTABLISHED GALLERIES AND THEATRES
The district around Martin Modern also offers aesthetic experiences to feed the soul. The three standout institutions here are Singapore Tyler Print Institute (STPI), Singapore Repertory Theatre (SRT) and TheatreWorks.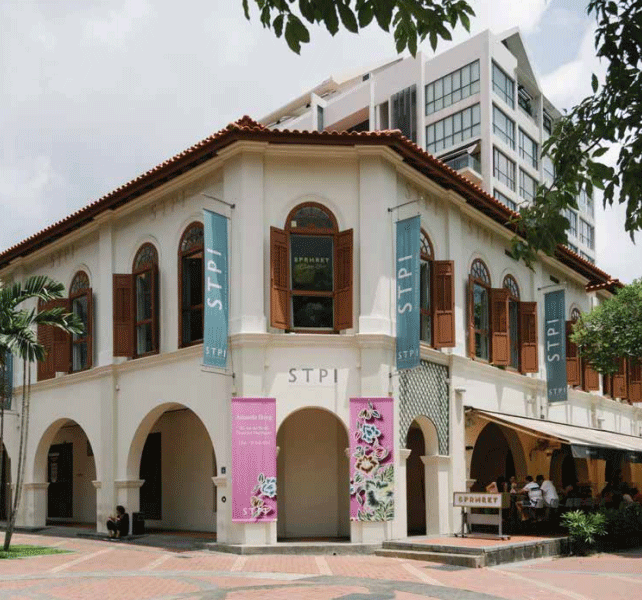 STPI
41 Robertson Quay, S238236
Besides holding exhibitions showcasing innovation in print and paper art, the STPI also organises creative and fun workshops like etching, paper pulp painting, and screen printing. It's fun with paper and print for the whole family!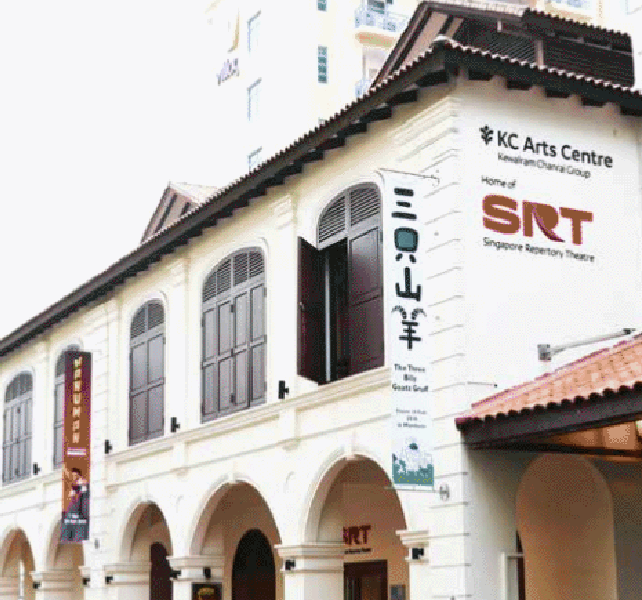 SINGAPORE REPERTORY THEATRE
20 Merbau Road, S239035
One of Asia's leading theatre companies, SRT has lent a distinctive creative flair to Robertson Quay. Catch original works, classic plays, and even best-selling productions from London's West End and Broadway.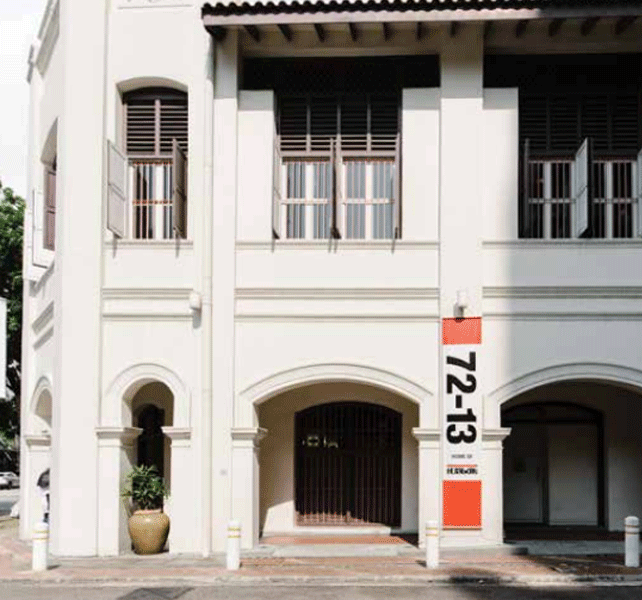 THEATREWORKS
72-13 Mohamed Sultan Road, S239007
One of Singapore's most eminent theatre groups, TheatreWorks is known for promoting and producing Singapore writing, interdisciplinary performances, and collaborations with international artists. It pushes the boundaries of not just theatre, but contemporary visual culture and new media.
---
SHOPPING FOR LIFESTYLE NEEDS – IN STYLE
Besides the shops and supermarkets in Great World City and Liang Court, the area is peppered with boutique businesses that look after the lifestyle needs of those with discerning tastes.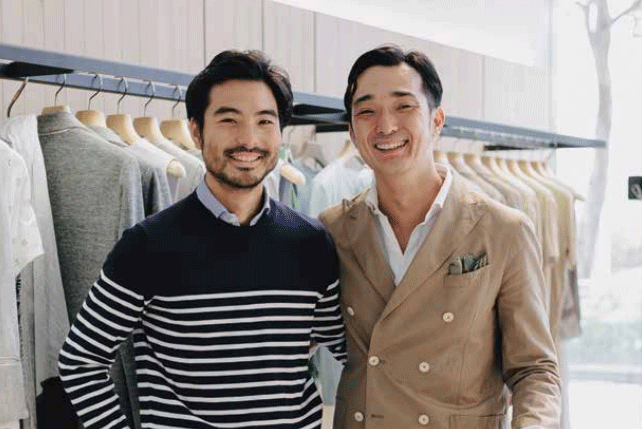 COLONY CLOTHING
83 Clemenceau Avenue #01-37, UE Square, S239920
Colony Clothing stocks up high-end labels and styles from Japan exemplifying Lifestyle Dualism - the philosophy of living big city weekdays and rural island weekends surrounded by nature.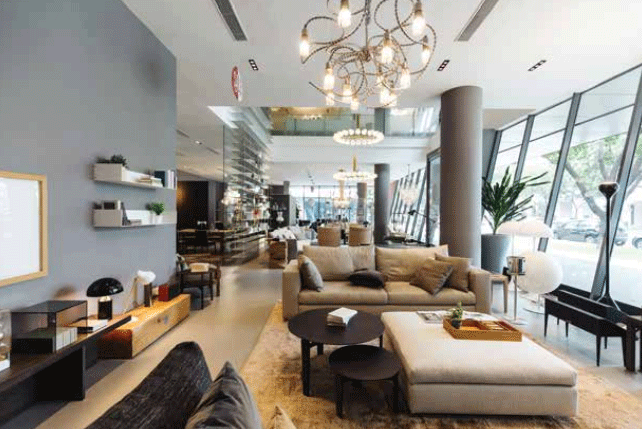 P5
63 Mohamed Sultan Road #01-14, Sultan Link, S239002
No stranger to designing aficionados, P5 carries the best of modern furniture and lighting. Designer brand names carried in-store include Molteni&C, Louis Poulsen, Moroso, Carl Hansen, and Stella Works.
---
STEP ACROSS INTO A WORLD OF CUISINES
Robertson Quay serves up world-class cuisines of diverse cultures to satisfy the denizen of this cosmopolitan neighbourhood. From European and Mexican to Chinese and Japanese, there is something for every palate, and the challenge in arranging a dinner will be in having too many choices.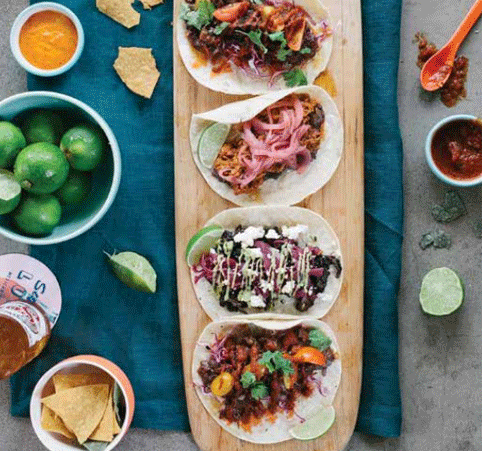 SUPER LOCO
60 Robertson Quay #01-13, The Quayside, S238252
Fun, casual Mexican street food in an eclectic ambience. Expect a mouthwatering array of tacos washed down with ice-cold margaritas.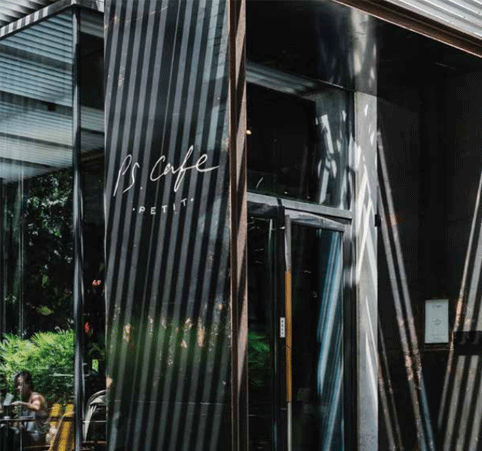 PS. CAFE PETIT
38 Martin Road, S239059
A chain famous for its ambience and great food. You can brunch happily here on a scrumptious egg and bacon bunwich and sip on a honey lemon soother.
---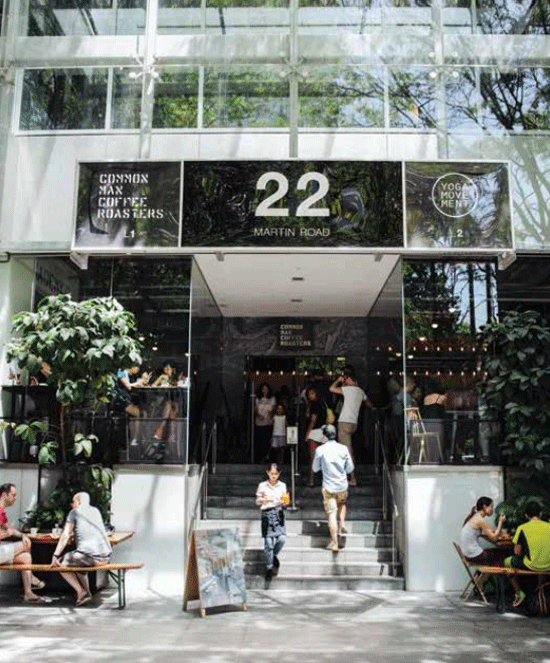 COMMON MAN COFFEE ROASTERS
22 Martin Road #01-00, S239058
CMCR is popular for their all-day breakfast, which includes fluffy pancakes with caramelised bananas, organic eggs benedict and braised ox cheeks.
---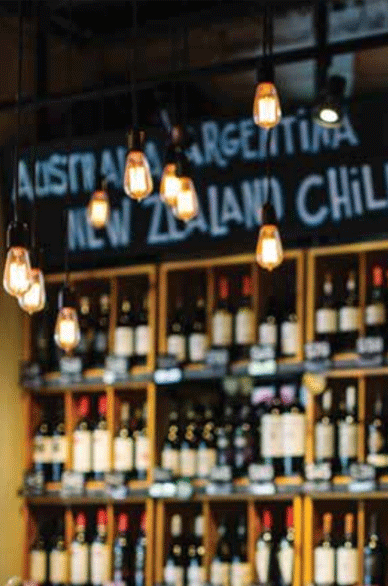 WINE CONNECTION TAPAS BAR & BISTRO
11 Unity Street #01-19/20, Robertson Walk, S237995
The go-to place for fine wine and tapas, this is where you can sample different cheeses, share a pizza, or stock up on wine for a last-minute party.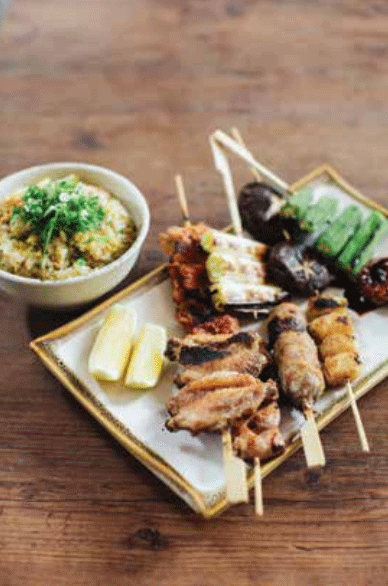 SHUNJUU IZAKAYA
30 Robertson Quay #01-15, Riverside View, S238251
Renowned for some of the best sumiyakis (Japanese charcoal grills) in town, this cosy sake dining bar serves skewered meats with over 40 types of sake.
---