A whole range of amenities is available at MeyerHouse such as indoor gym, a swimming pool, tennis court, BBQ area and children playground awaits you. A truly luxurious resort lifestyle for you and your family at Meyer Road.
Whenever family gatherings happen or just merely relaxing, their clubhouse and function rooms are made available to suit your needs. If you like sports and want a healthy mind and body, MeyerHouse built its own gym, tennis court, and even swimming pool to relax. Children have their own spot too since they have created a playground so children would not need to go out and parents can easily take them to have fun. Meyer house facilities are carefully planned to offers a complete living lifestyle for your family.
Wake up to prime resort living only at MeyerHouse. Do you want to have a tour review the condo? Don't hesitate go vistit Floor Plans now!
Meyerhouse Site Plan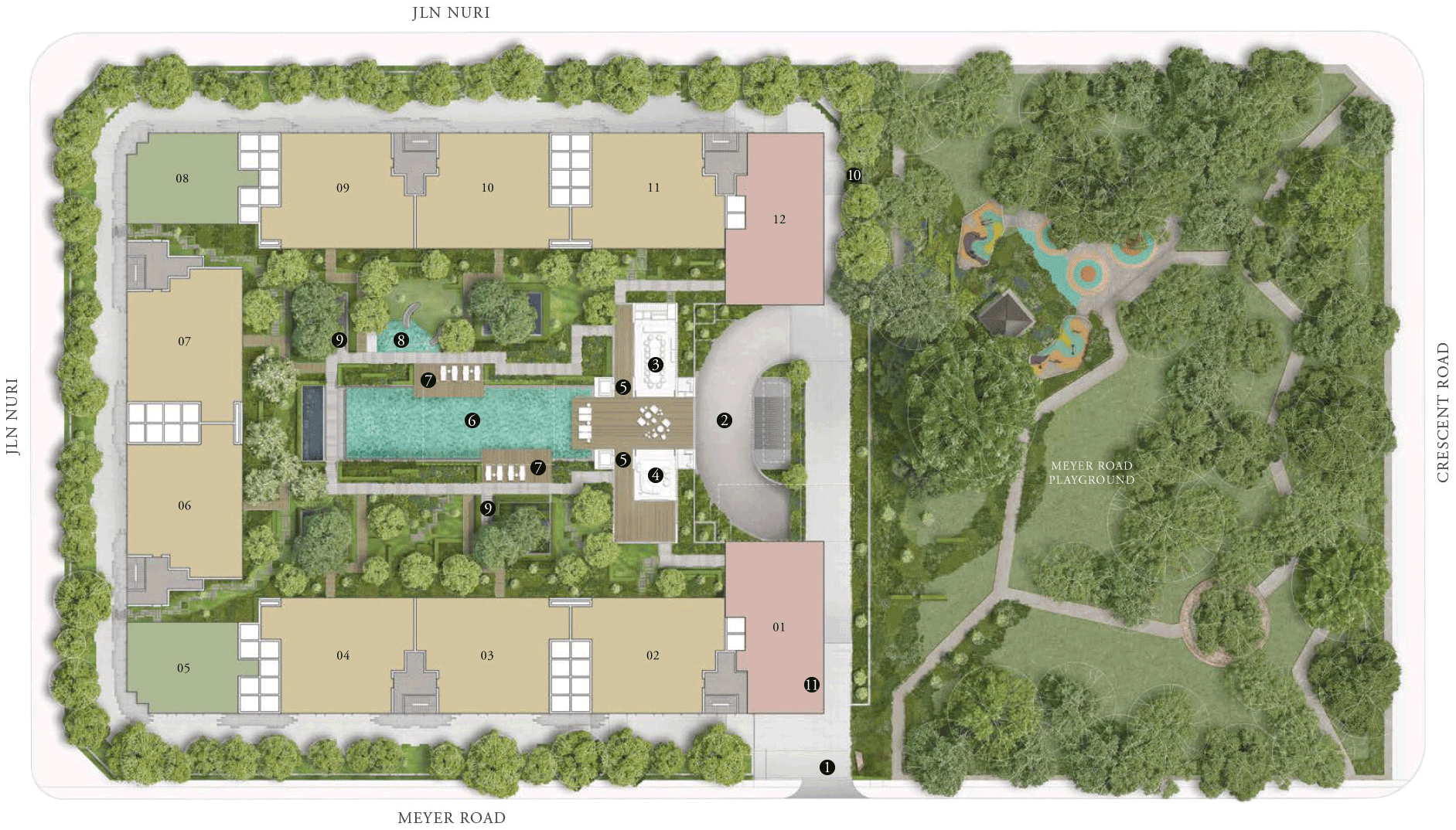 Meyerhouse Facilities
A DIALOGUE BETWEEN NATURE AND ARCHITECTURE
The composition for luxury living is arrayed to give every residence views of the lush internal gardens that spill out onto an adjacent park. Living spares extend onto large balconies where tall trees and nature provide visual respite and shade.
The building's stately elegance is accentuated by a unique operable louvered facade, designed to ensure privacy, while signifying the essence of MEYER HOUSE as a thoughtfully crafted home set around and arising amongst nature.
---
AN EXCLUSIVE ARRIVAL
Located on the lower ground level, the arrival lobby sits amidst terraced gardens, shimmering pools and walkways that lead ro the dedicated private lift lobbies for each residence. Private car park spaces for 4-bedroom and Penthouse units are located steps from their private lift lobbies.
For even greater ease, the MEYER HOUSE concierge is at hand to cater ro residents' requests, from restaurant and transportation booking, to arranging housekeeping services.
---
CURATED, TIMELESS INTERIORS
The interiors bear the signature elegance of Yabu Pushelberg, which has interpreted a new modern luxury for MEYER HOUSE that is curated, expressive and honest. Refinement finds expression in handpicked fittings and quality finishes that are attentive to the daily rituals, and in the harmony of colours, textiles and details that evoke a warm feeling of home.
---
AN ENCHANTING GARDEN
Sculpted landscape of crisp cut hedges, soft grasses and flowering shrubs recalls the charming gardens and rolling hills of the English countryside. Nature unfolds in different shades and textures of green, dotted with splashes of colourful blossoms. Paths glide across gently undulating terrain from one delightful discovery to the next — a quiet reading room, a secret tunnel, a shallow pool. Some parts designed for play, others for you to hide away.
---
---
DESIGN
ARISING AMONGST NATURE
WOHA Architect's composition for luxury living gives every residence views of the lush internal gardens that spill out onto an adjacent park and cascade down to a lower water courtyard where a refreshing arrival experience unfolds. The landscape, sculpted by Ramboll Studio Dreiseitl, recalls the charming gardens and rolling hills of the English countryside. The interior design by Yabu Pushelberg integrates the appreciation for nature with contemporary comforts and traditional craftsmanship.
THE CREATIVE MINDS
MEYER HOUSE brings together three internationally renowned masters of their craft – celebrated local architectural firm WOHA ARCHITECTS, landscape architects RAMBOLL STUDIO DREISEITL founded in Germany, and interior designers YABU PUSHELBERG from Canada – who share an instinct for creating spaces that embrace the natural environment and push the boundaries of design and innovation. Their thoughtful design, fine attention to detail and bespoke touch lend a beautifully tailored quality to each home, elevating the living experience on every level.