New Futura Site Plan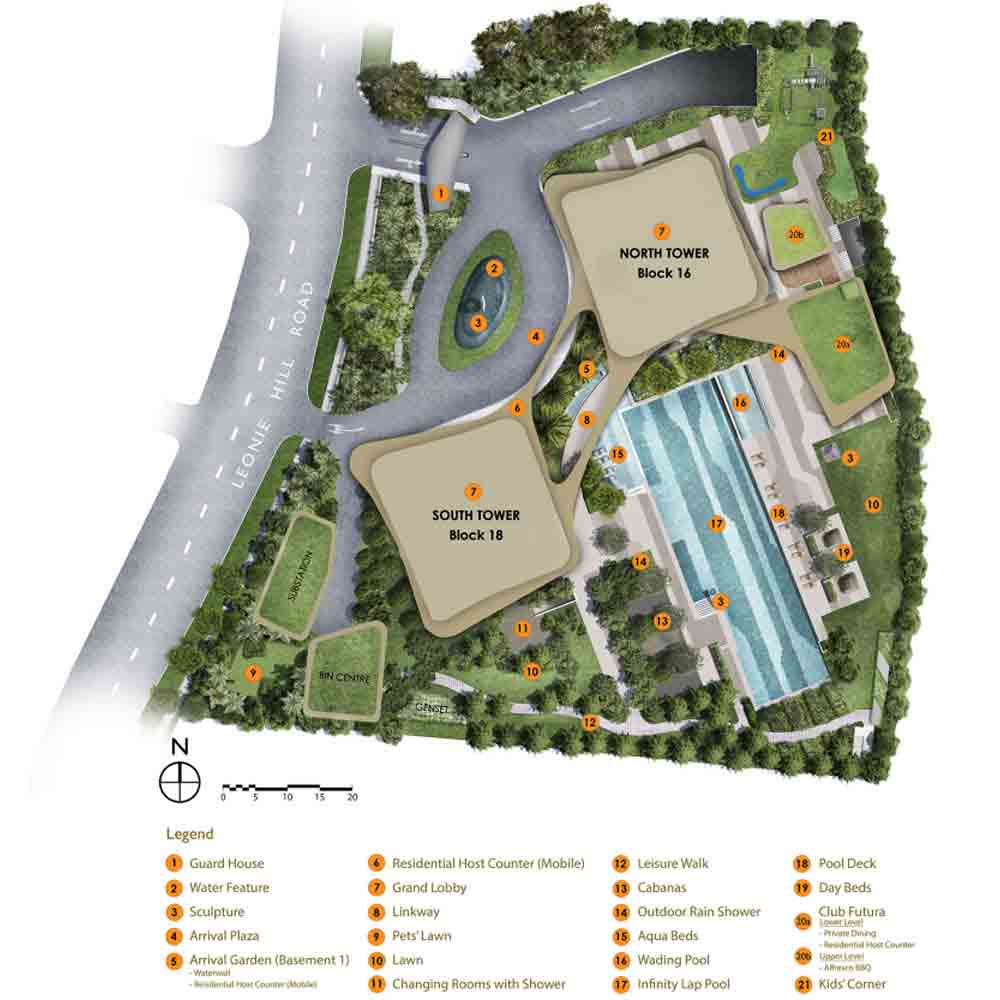 ---
---
---
Landscape Deck and Basement
1. Arrival Plaza
2. Grand Lobby
3. Infinity Lap Pool
4. Pool Deck
5. Cabanas
6. Board Walk
7. Wading Pool
8. Clubhouse (Club Futura)
Lower Level

Private Dining
Gourmet Kitchen
Cosy Lounge
Concierge

Upper Level

Alfresco BBQ
Function Room
9. Kids' Corner
10. Pet's Lawn
11. Nature Trail
12. Arrival Garden (Basement-1)
Sculpture
Waterwall
Concierge
3rd Storey – FITTNESS TERRACE
1. Wellness Studio
Gymnasium
Steam Rooms
Changing Rooms with Lockers
2. Action Deck
3. Leisure Deck
Block 16 Level 10 – SKY SERENITY
1. Yoga Deck
2. Pilates Deck
3. Meditation Decks
4. Relaxation Decks
5. Foot Reflexology
Block 16 Level 23 – SKY AQUA
1. Lap Pool
2. Pool Deck
3. Outdoor Rain Shower
4. Viewing Deck
Block 16 Level 28 – SKY INDULGENCE
1. Social Lounge
2. Family Patio
3. Cosy Bay
4. Epicure Dining
5. Leisure Lawn
Block 18 Level 14 – SKY SENSE
1. Reading Corner
2. Wired Zone
3. Synapse Bay
4. Wisdom Garden
Block 18 Level 23 – SKY BLISS
1. Jacuzzi
2. Tea Veranda
3. Spa Beds
4. Spa Alcove
5. Viewing Deck
Block 18 Level 30 – SKY INDULGENCE
1. Social Lounge
2. Family Patio
3. Cosy Bay
4. Epicure Dining
5. Leisure Lawn
---
New Futura Facilities
Savour The Future Of Thoughtful Luxury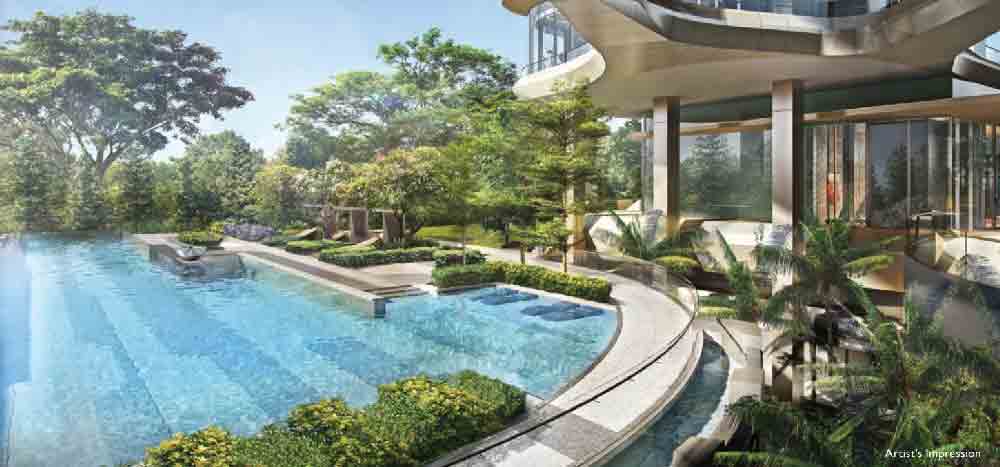 At New Futura, details matter. That's why you'll find over 250 parking lots in the basement, with some designed extra wide to accommodate supercars and coupés. Located on the multi-tiered lush tropical landscaped gardens, is an infinity lap pool, aqua beds and the aptly named Club Futura. This exclusive clubhouse provides cool respite in the day and transforms into a private dining venue at night. To complement life at New Futura, you'll find the hospitality-trained hosts of our Signature Residential Services* who are dedicated to pamper and provide to your needs.
---
The Luxury of Space Begins With Space For Luxury

The doors of your private lift open and lead you into a generously sized living and dining room with a spacious balcony. You'll discover elegant fine marble flooring in every home and double volume ceilings in selected units that expand and heighten your living experience. Depending on your lifestyle, you can choose from a range of 2-, 3- and 4- bedroom apartments. For those who dream of owning a bungalow-in-the-sky, you can luxuriate in a double-storey super penthouse replete with your own private swimming pool.
---
One Fitness Terrace To Six Themed Sky Terraces.
Welcome To The Good Life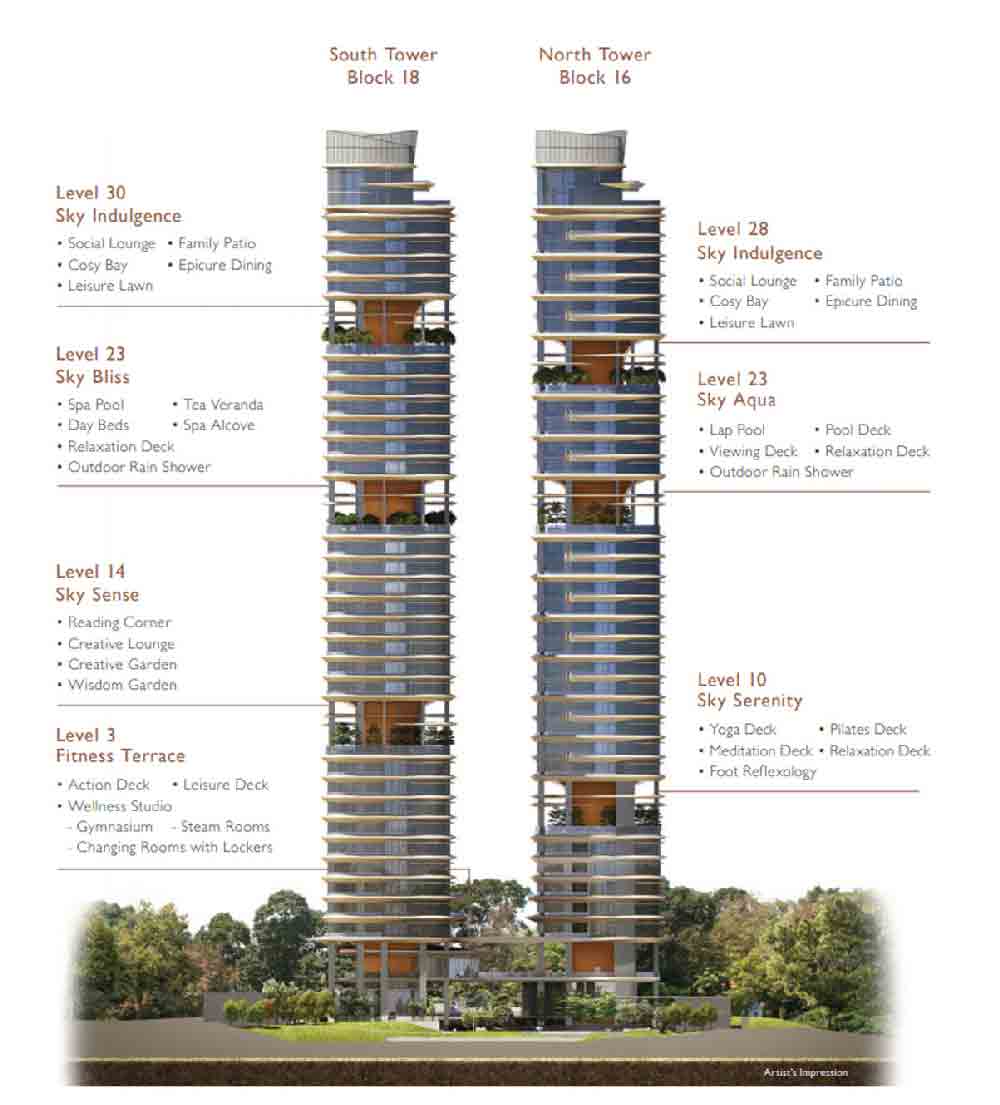 ---
New Futura ~ Rare freehold luxury condominium in Singapore's prime District 9. Award-winning architect – Skidmore, Ownings and Merrill LLP (SOM)
Two exquisite "Bungalow-in-the-sky" dual-level penthouses with 13-metre private swimming pool and state-of-the-art designer kitchen from Porsche. 6 sky terraces and 1 fitness terrace set in lush landscape for residents to enjoy panoramic views of the city and conduct leisure activities.
Land Size about 87,094 sq ft, 124 units of 2 blocks of 36 storey towers. North Tower Blk 16 & South Tower Blk 18 Private lift access to all units. All 3-bedroom and 4-bedroom units come with 180-degree panoramic views.
Recreational Facilities – Level 1 and Basement 1
Fitness Terrace – Level 3
Sky Serenity – Level 10 North Tower
Sky Aqua – Level 23 North Tower
Sky Indulgence – Level 28 North Tower
Sky Sense – Level 14 South Tower
Sky Bliss – Level 23 South Tower
Sky Indulgence – Level 30 South Tower
---
Forward Luxury With Fordward Thinking - That's Sustainability At New Futura
New Futura isn't just an elegant piece of architecture. It was designed with the environment in mind with the right eco-efficient touches that have earned the BCA Green Mark GoldPlus Award.
Passive Cooling Design Architecture
Passive low energy with low emissivity coated double glazed vision glass and insulated glazed spandrel panels
Horizontal sun shading fins to reduce sunlight admitting into apartment interior
Water Efficiency
Water efficient fittings provided to all apartments
Automatic water taps and flushing system at common areas
Automatic water efficient irrigation system to at least 50% of the landscape area
Harvesting of rainwater and condensate water for landscape irrigation at L1 and L3
---
Environmental Quality and Protection
Use of sustainable & SGLS (Singapore Green Label Scheme) certified products
Use of low VOC (volatile organic compounds) paints for all internal walls
Energy Efficiency
Built-in motion sensors at all escape staircases
Energy efficient lifts with VVVF
(variable voltage variable frequency) drive & sleep function mode
Use of ductless/jet fans and CO sensors for car park ventilation
Other Green Innovations
Provision of bicycle parking lots
Provision of electric vehicle charging points
Pneumatic waste collection and dual chute disposal system
Use of non-chemical termite treatment system
Siphonic rainwater discharge system at roof
Sun pipes to illuminate part of basement car park area
Conservation of existing trees
---
Right off the bat, you are going to be able to enjoy a fully functional full-sized swimming pool of 50m for your regular exercising routines. You can work out in the state of the art in-house gyms and you can chill out at the various relaxation areas in the land lot. There are sky gardens, viewing decks and whatever else you can think of when it comes to a new development launch.
This is something to be considered as you choose your residential property investment opportunity. It's going to offer everything that you may need in terms of comfort, convenience and connectivity – the three most important characteristics of a residential property in Singapore.
Architecture Design & Modern Interior
Architecture Design
2 towers of 36-storey high residential development with 2-level of common basement carpark and 6 nos sky terraces inserted at intermediate levels.
All 3-bedroom and 4-bedroom units with 180 deg panoramic view.
Penthouse units come with 360 deg panoramic view.
Stunning/Iconic architecture with the beautiful dynamic curves balconies and subtle linear multi-tier sun shading inspired by former Futura.
Multiple overlapping canopies and terraces where residents can relax and enjoy within this private urban sanctuary of green atrium space, waterfall, and the pool area.
Private sky garden set in lush environment of various activities concept where residents can relax, enjoy the view of the city, and have occasional outdoor events.
Drop-off areas are raised with tiered landscape fronting the street to create a more private and enclosed space for the residents from the street level.
2 carpark lots for every unit.
"Bungalow-in-the-sky" Penthouse design concept with 13m private lap pool.
Private lift access to all residential units.
Modern Interior
Generous and seamless living/dining room space
Layout design which allow flexibility for space amalgamation.
High ceiling of min. 2.8m at access corridors to bedrooms, min. 3.0m at living room and bedrooms. Double volume ceiling height of 6.6m at living/dining, where applicable.
All bedrooms (except that in unit type A1) come with En-suite Bathrooms
Powder rooms to 3-bedroom, 4 bedroom and penthouse units
High quality designer sanitary wares and fittings.
Fully equipped kitchen with imported appliances and cabinets
Ducted A/C system to living, dining and bedrooms.