Radiant space designed for comfort
An enclave near the city, Treasure at Tampines's outdoor and indoor spaces are designed to connect people and families. Architecture features that invite interaction and fosters a sense of community while offering a warmly welcome respite from the hustle and bustle of the city.
Treasure at Tampine New Launch sits on a site area of 702,164 sqf with approximate 2000 units so that will provide you a large of selection finding the best home choice. Now, discover Floor Plans to get more information units mix as well as the design condo.
Treasure At Tampines Site Plan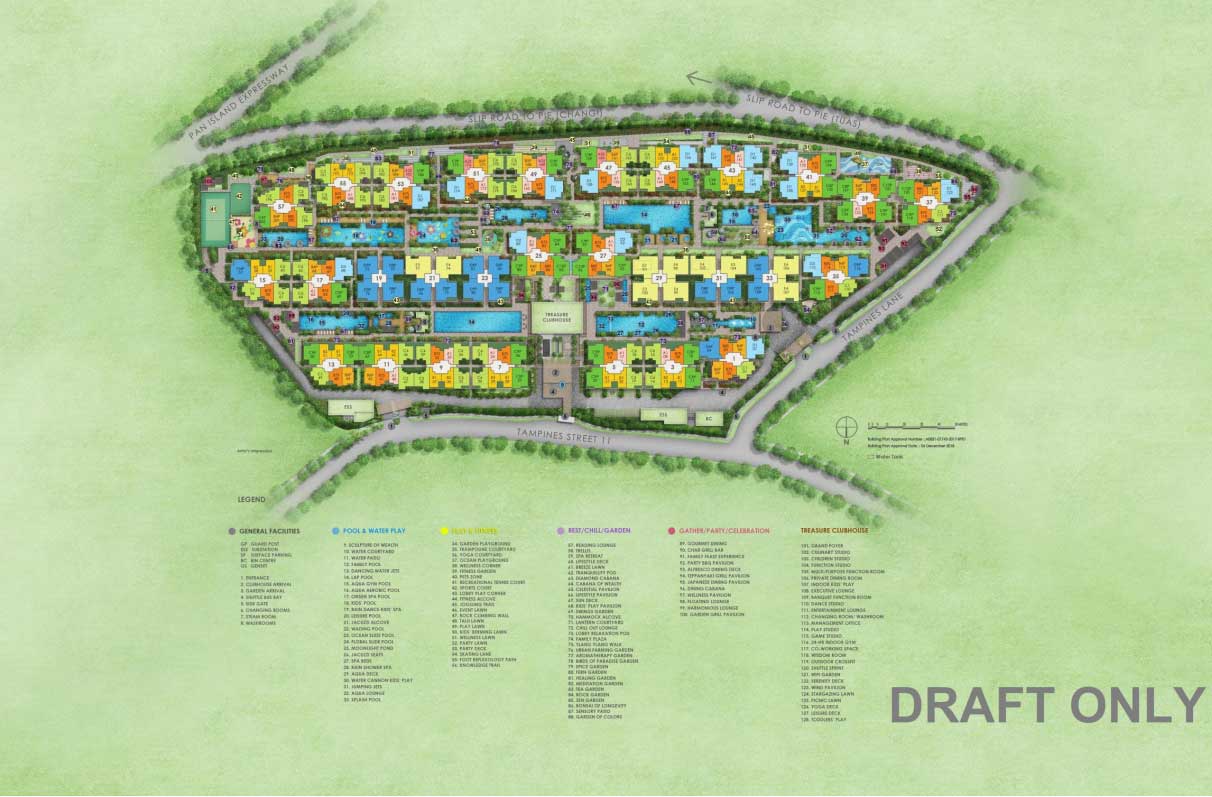 Treasure At Tampines Facilities
---
---
---
Rationale Of Name:
Treasure signifies the luxuriance of riches and everything you hold dear. It resembles the celebration of moments and joys of living that are most valued.
Live large, explore and grow in the comfort of space. Immerse into the richness of life where seeds of happiness, hope and love blossoms into an abundance of precious memories. Cherish the tranquility of a beautiful home that sparkles amongst the curated suite of facilities and expansive landscaped views.
Design Intent:
Modern and contemporary architecture with extensive use of glass to bring brightness and light into the living spaces.
128 wholesome facilities that cater to a wide spectrum of homeowners
Well-planned and efficient layout to maximize comfort and enjoyment
Selection of stylish and quality fittings from Electrolux and Hansgrohe
Smart Community System provided for secured access at Basement and 1st storey lift lobbies of residential blocks, designated areas within the Clubhouse and booking of recreational facilities.
128 Exciting Private Condominium Facilities
Gourmet Dining
Barbecue Pit
Dining Cabana
Floating Lounge
Lap Pool
Jacuzzi Seats
Spa Beds
Family Pool
Aqua-Aerobic Pool
Onsen Spa
Leisure Pool
Jacuzzi Alcove(Private Jacuzzi)
Kids Slide Pool
Wading pool
Children Playground
Trampoline Courtyard
Wellness Corner(Elderly Fitness)
Fitness Garden(Adult Fitness)
Pets Zone
Spa Pavilion
Tranquillity Pod
Diamond Cabana
Treasure Clubhouse