Various facilities including a swimming pool, indoor gym, tennis court, children playground and BBQ area awaits you. A truly luxurious resort lifestyle for you and your family at Juniper Hill Allgreen Properties. Take time to mingle with friends and neighborhood. Enjoy some quality me-time at the seashore inspired party deck located on the ground floor. The party pavilion and barbeque deck merge enticingly with the spa pool and lap pool, providing easy lounging and entertainment options for relaxing evenings or balmy weekends.
Showflat Viewing will becoming soon, book an appointment with us Today to be priority one. Now, go with Floor Plans to know more about typical units mix as well as beautiful design.
Juniper Hill Site Plans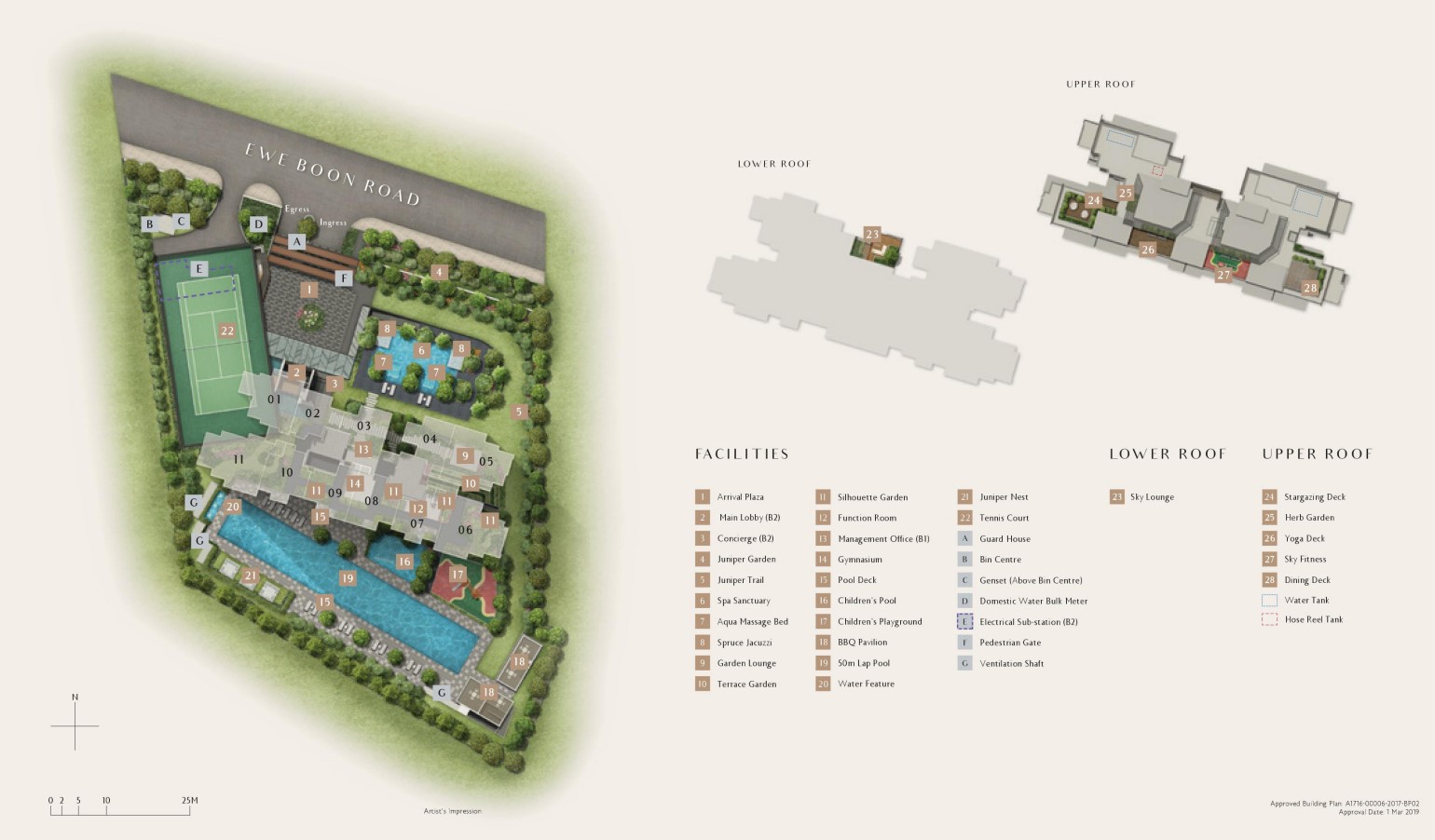 Development Overview
Site area : 5,619 sqm
No. of residential units : 115
No. of blocks : 1
Storey height : 12-storey
Residential Unit
Typical floor-to-floor height : 3.15m
Top floor : 3.225m (floor-to-floor)
Parking Provision
Car park lots : 115 lots
Bicycle lots : 30 lots at Basement 2
Accessible parking lots : 2 lots
Upper Roof
Stargazing Deck
Herb Garden
Yoga Deck
Sky Fitness
Lower Roof
Sky Lounge
Dining Deck
Water Tank
Hose Reel Tank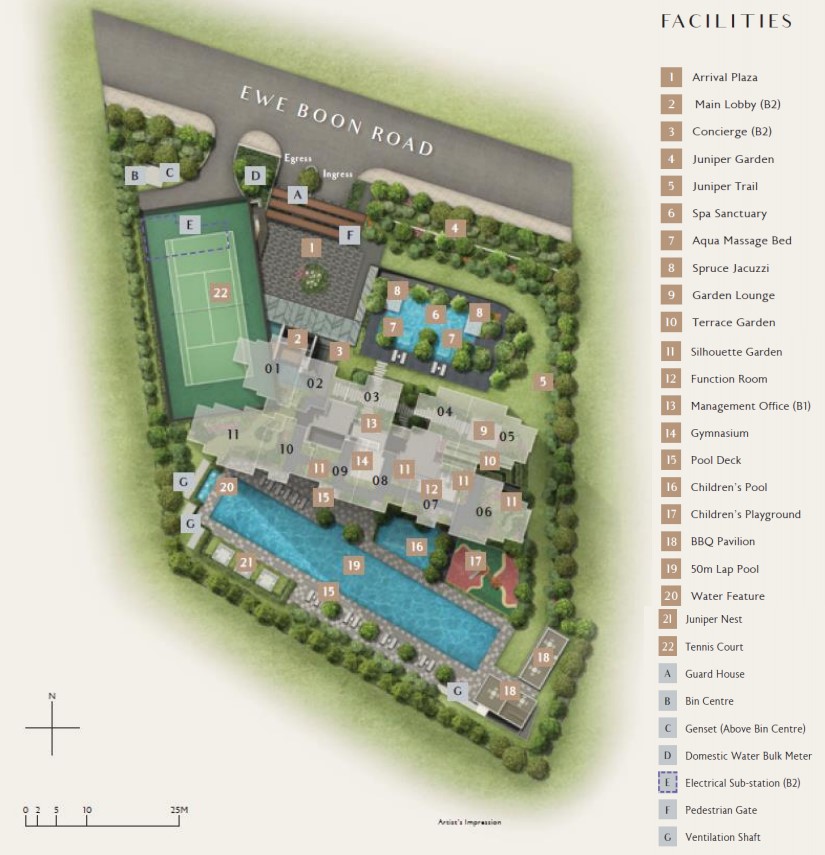 Facilities
Arrival Plaza
Main Lobby (B2)
Concierge
Juniper Garden
Juniper Trail
Spa Sanctuary
Aqua Massage Bed
Spruce Jacuzzi
Garden Lounge
Terace Garden
Silhouette Garden
Function Room
Management Office (B1)
Gymnasium
Pool Deck
Children's Pool
Children's Playground
BBQ Pavilion
50m Lap Pool
Water Feature
Juniper Nest
Tennis Court
Guard House
Bin Centre
Genset (About Bin Centre)
Domestic Watwer Bulk Meter
Electrial Sub-station (B2)
Pedestrian Gate
Ventilation Shaft
---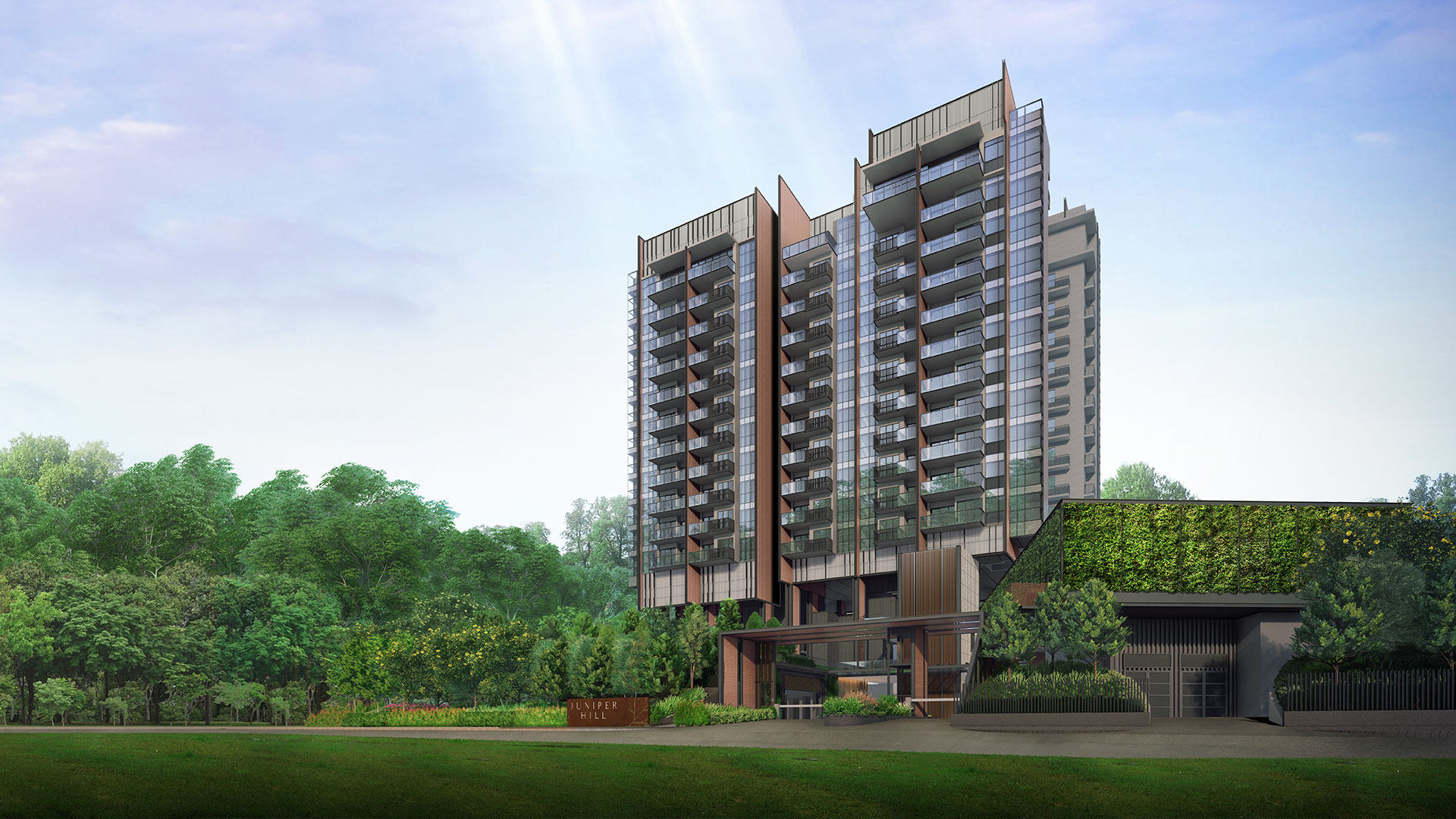 Your home at Juniper Hill comes with complimentary concierge services* to ensure that your everyday needs are well taken care of. In addition, enjoy daily delivery of fresh bakes, laundry services, and assistance with hotel room bookings and F&B reservations from Shangri-La Hotel* .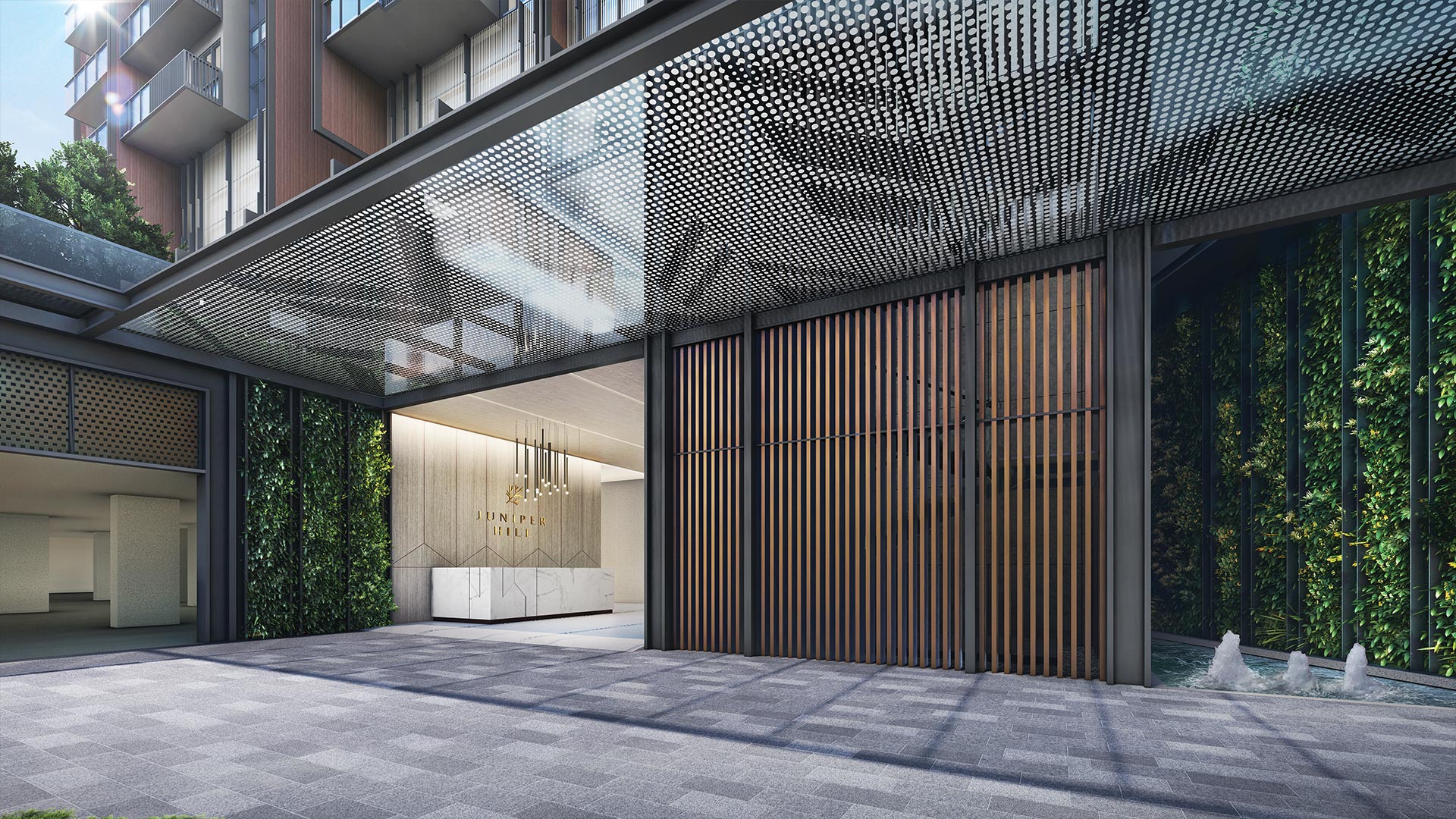 ---
In the evenings, spend some time at the Stargazing Deck, watching day turn to night. Admire the view over the surrounding private houses, as the city lights come on in the horizon.
---
A beautifully landscaped location awaits you at Juniper Hill. Multiple levels of landscape and facilities create different experiences for everyone to enjoy. This is truly a home in nature.
---
THE SIGNATURE SERIES
A variety of unit types caters to different lifestyles, needs, and uses. The efficient and practical layout also ensures that the interior spaces are liveable and welcoming — a treasured home above all for you and your loved ones.
---
---
Of the 115 homes in Juniper Hill, 5 exclusive units make up The Signature Series. This rare 4-bedroom and 5-bedroom units exemplify the qualities of Juniper Hill, with generous spaces and exceptional built-in features.
---
PREMIUM FITTINGS
---
PREMIUM PALETTE
A thoughtful selection of premium materials lends elegance and sophistication to your home at Juniper Hill. A neutral palette of wood, marble and metallic accents form a ready canvas for you to express your personal style and taste.